With thanks to Martyn Smith.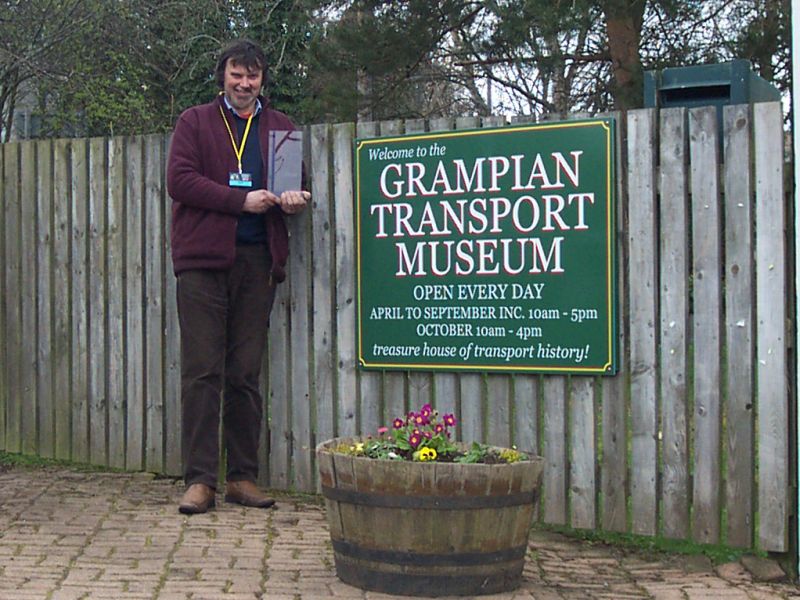 Grampian Transport Museum needs a helping hand. The award winning museum has followed an annually updated development programme for the past three decades in order to remain topical, relevant and popular. Recently it has been agreed that the whole visitor reception experience needs a radical rethink.
Like a good hotel GTM needs an area where visitors can arrive, take stock, get their bearings and be introduced to the experience to follow.
To answer this need a new reception extension has been designed that can accommodate an introduction to the seasonal exhibitions mounted at GTM and also the various activities possible at the museum. For example for the first time the museum's work with schools, heritage skills and the GTM Young Engineers Club will be showcased.
Customer comfort will be upgraded to exceed expectations with a new superloo and coffee and magazine area in a light airy modern structure fronted by a portico carried on salvaged cast iron piers.
The GTM is a self financing educational charity. In revenue terms it is self sustaining at little or no cost to the public purse but when capital projects are to be funded outside help is needed. A fundraising campaign was launched at the museum on 26th June to raise the £320,000 needed to build the new facility. Last Friday, the museum passed the £100,000 mark; the six figure barrier is broken.
However if the museum is to build the facility this Winter as planned the total sum needs to be secured in the next eight weeks. Planning permission has been secured well in advance to ensure that this is possible.
To date funds have come from a number of supportive companies and individuals. The first to commit was BP who are supportive of the museum's educational programmes.
The GTM is already a highly rated local facility but anyone wishing to help it to take a big step forwards should contact the Curator, Mike Ward on curator@gtm.org.uk or by 'phoning 019755 62292. Mike will be happy to explain the proposals in detail and also the attractive reciprocations offered to supporters.
 Comments enabled – see comments box below. Note, all comments will be moderated.