Old Susannah gets to grips with letting go of a great local talent, and the latest government wheezes, locally and nationally.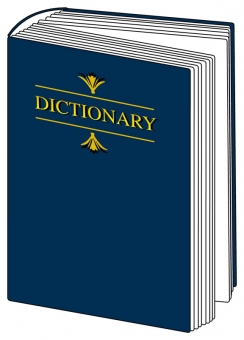 Another eventful week passes in the Granite City, bringing good news and some sad. Children have done arts and crafts in Union Terrace Gardens, organised by Aberdeen Inspired. This is despite the city's officer Gordon McIntosh insisting the balustrades will fall down any day, and the gardens aren't safe to use.
Inspired even managed to hold their events without scores of crowd barriers or 7' tall security guards. Rumours are that Gordon may be about to make some dynamic changes of one sort or another.
The campaign to save Bon Accord Baths is gaining more momentum; some £5 million pounds is needed. However, in a city with our level of wealth we should be able to do this. In fact, Aberdonians apparently have more disposable income than almost anyone else in the UK. 
We still need food banks, mind. In the UK, over one million people rely on food banks, but they're probably just benefit scroungers and immigrants (remind me to look up the amount of this year's UK defence budget again).
Surprisingly some good news comes from the city council, where funds from outdated, surplus accounts were given to local causes such as the Cyreneans. It's not a huge amount of money, but after the Kate Dean/Kevin Stewart council's assault on our charities and good causes, this is quite a turnaround.
I learned how to make pasta at an amazingly fun course at Nick Nairn's school. You may remember the then city council almost didn't give Nick Nairn an alcohol license. The licensing board were probably afraid that people would sign up for courses (costing upwards of £40), learn what wines go with what foods, have a glass of red or white, and then go wilding into the night, committing crimes.
Thankfully, it seems no one from the cooking school to date has gone on a crime spree, and clearly the city has the city's serious drink culture under complete control.
Spring has arrived! Result! The signs are everywhere: the theft of cars and licence plates continues, the gramps are being set alight once more and travellers are moving from public space to public space, leaving debris behind them, presumably as a token of the esteem they hold us in. The council say the police should act; the police seem to be implementing a reverse discrimination favouring the travellers.
And I don't want to spoil the surprise, but you and I will be paying for the necessary clean-ups. A dead dog and £22,000 worth of waste was left near the beach by the travellers, and history looks set to repeat itself just a little further north.
If you want to live as you please, it would be nice to do so respecting the rights of the rest of us to live as we please – well in some idealised fantasy version of reality anyway. While some of us are trying to preserve and enjoy what's left of our open spaces, other people seem to think we don't care about mounds of trash or the very real prospect of stepping in human waste or over dead dogs. Thanks.
The UK's police were trying to deny there is a quota system
To the people who'll tell me not all travellers are alike, I agree. However, these past 10 years I've not seen a single travellers' site in Aberdeen left in good condition when travellers travel.
And down the road in Ross-shire, it's now 20 birds of prey that have been poisoned. So that's good news for the shooting estates catering to people who like to blast birds from the sky with guns. Fledgling game birds are bred in captivity like ill-used hens, and thrown out without a clue, to be blasted. The sporting life indeed; no wonder billionaires and famous TV stars like Trump are into this kind of pursuit.
So how do our police perform when it comes to saving our wildlife, stopping car thefts and stopping people trashing our green spaces (when they know exactly who's doing it)?
Aberdeen got a mention in the Sunday papers; its police seem to like arresting children, and are very fond of random spot searches. A child of two was apparently charged with property damage. I'm sure they understood their rights and I'm sure the parents were the police's first port of call. Police Scotland are also fond of telling people who own cars and houses to hide their goods or it's their fault if they're robbed.
The UK's police were trying to deny there is a quota system in place for arrest and searches. Unfortunately, the truth leaked out, and there are indeed quota systems.
Justice may be blind, but she's counting. It's nearly one year since the police blew the budget (or so it looked) raiding the empty flat of George Copeland. Things may have been quiet on this story in the news, but I can promise you, the fight for a rational explanation and disclosure of information are ongoing. Who knows – there may eventually be some justice for George. Watch this space.
Other than that, I've had some fun (Malmaison, Temple Aesthetics, BrewDog of course and the Tunnels – Palma Violets were spectacular). But this week David Innes, drummer with the Gerry Jablonski band, passed away. A service is being held the morning of Friday 18 April, and later that night a concert takes place at The Forum.
We were privileged. I'll remember the last times I saw him, including the Moorings in early March, the Jubilee party in Union Terrace Gardens where they entertained thousands, and the Lemon Tree when the latest Gerry Jablonski & the Electric Band album was launched.
There are performers 20 years younger who don't have his enthusiasm, energy and stamina. There are performers 20 years older than he was who would have loved to have his talent and range. If Aberdeen is a city of culture (outside of bureaucrat speak), it is because of artists like David Innes. Condolences to his friends and family.
Life Expectancy Letters: (Mod. Eng. ConDem phrase) – letters to be sent to OAPs, telling them when they will likely pass away.
Well there is a new government initiative we can all be happy with; they are going to send everyone a letter, telling them when to expect to die. I can't see any flaws in this cunning plan.
Then again, with Alzheimer's setting in early in some cases, and looking set to be an epidemic in the near future, I'm sure all the guardians and children of those afflicted with forms of senile dementia will be very happy to get letters to advise when mother and father are expected to die.
I'm certain too that this is not some ploy to scare the elderly into saving well into later life. After all, you want to live in comfort with as few trips to the food bank as you can manage until you die at precisely 9 September in 2027, don't you? Letting you know when you're likely to die will just make you take better care of your health, and your money.
And of course should you fall sick or need residential care, then the government will take your savings off of you to pay for such care.
Of course most of us who work have been paying tax throughout our working life in the belief this would go to giving us good care when we're older. Just don't bank on it. I'm glad there's no chance of another pension mis-selling scheme like we saw a few decades ago. No-one would take advantage of the elderly and sell them financial products they didn't need, would they?
"Pensions minister Steve Webb said that under new government guidance, experts could assess approximate life expectancy by looking at factors such as smoking, eating habits and socio-economic background."
 As far as socio-economic background is concerned, I wonder if those living on the food banks will have the same life expectancy as those at the merchant banks
I'm sure this scheme to write to everyone with an expected death date is not geared to frighten us into getting into private pension schemes. That would only benefit bankers and financial institutions, and our government wouldn't show the financial sector any special treatment, would it?
I talked to an older citizens who was still of working age recently; they had decided to skive off work for a few months, and used a slipped disc as their flimsy excuse to get on the dole. I'm happy to say we made it as hard for this scrounger as we could; it was 6 weeks before they got any financial help, despite having worked all their life. Dipping into their savings to pay bills, they eventually bled the taxpayer for £78 per week.
Now if they knew what their death date was, they might have been convinced to save a bit harder, work more hours, and have more savings to burn through at the first sign of illness. This guy was not good at financial planning, either. All of his money was earned and taxed in the UK, and he didn't shelter any of it offshore. Well, if you don't save as much as you can, it's simple. Just don't fall ill or die.
Old Susannah is interested to see what factors are taken into consideration. I'm sure the ConDems won't want to upset anyone by letting on that the air is now killing more people than ever before.
Perhaps this is such a good idea we should take it further, and make dying by the projected death date mandatory? I'd be surprised if some ConDem somewhere isn't contemplating it.
Dune Management: (Modern Eng. compound noun) To preserve a natural area by changing it beyond recognition.
It would seem the Donald Trump school of sand dune management's principles are taking off a treat.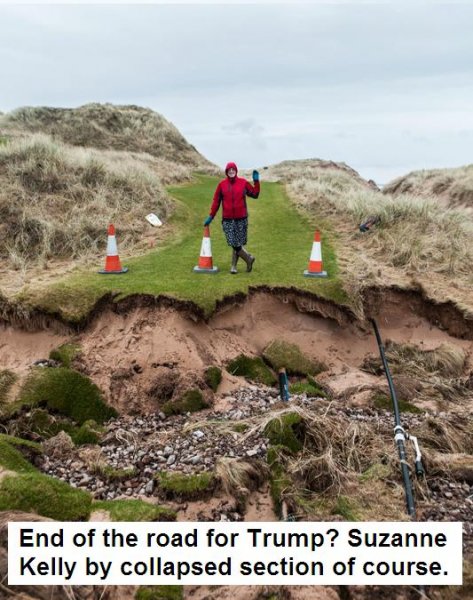 A Cornwall-based council decided that they would 'stabilise' their own sandy beach by planting conifers on the beach. Somehow, this has displeased residents and visitors, who wanted to see beach at the beach, and not dying, dried out half dead trees that were never going to grow in the first place.
Of course the marram grass, gorse and trees Trump has planted has totally stabilised 'The Great Dunes of Scotland' as Trump Golf seems to call Balmedie Beach.
The dunes are so great I think travelling spice and silk merchants will be crossing them by camel to stay at the opulent MacLeod House.
Anyway, Trump saved our dunes for us, and that's why there is no sand blowing around the greens or any other problems there.
My photo above shows just how stable the course is.
 Next week:  A Trump update and more definitions
Comments enabled – see comments box below. Note, all comments will be moderated.