With thanks to Gillian McGarthland.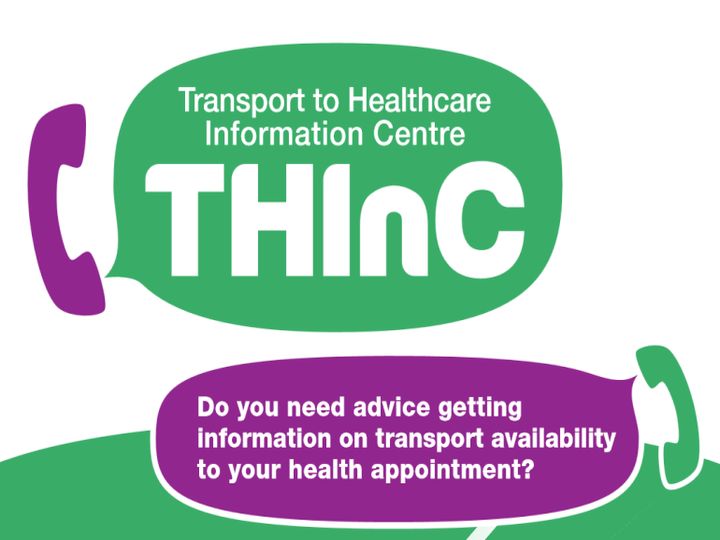 Many people need advice on how to get to and from their health appointments.  This can add stress to a difficult situation and sometimes lead to missed appointments.  The Transport to Healthcare Information Centre (THInC) can help. The project provides practical transport advice for people who have difficulty getting to and from medical appointments in Grampian.
The service provides a dedicated telephone service offering guidance on accessing suitable transport. 
The centre can provide details of suitable bus or train times, contact telephone numbers and other services such as local dial-a-bus or voluntary car schemes.
The centre is the first of its kind in the UK and is a joint initiative between Aberdeen City Council, Aberdeenshire Council, Moray Council, NHS Grampian, The Scottish Ambulance Service, Nestrans and HiTrans and is one initiative being taken forward by partners under the Health and Transport Action Plan.  The project also works closely with transport providers.
The Health and Transport Action Plan (HTAP) is a strategic document which supports the Regional Transport Partnership.  The focus is on ensuring partnership working across Health and Transport sectors with a focus on three keys themes: Active Travel, Transport links to Public Health (air quality, road safety, inactivity) and Access to Health.
The HTAP document is currently being reviewed.
Key issues have included raising awareness of the telephone number but also communicating to the public that it is not the number for booking ambulance transport and does not guarantee a service is available.  One of the aims of the project is to identify gaps in current transport provision.
The longer term aims of the project include developing closer integration between transport and appointment times and acting as a hub for potential future partnership working with transport operators.
Currently a promotional campaign is being carried out to increase awareness of the project. This has included information on appointment letters, emailing relevant professionals, community groups, poster distribution, advertising on prescription bags and use of social media.
HTAP Co-ordinator, Andrew Stewart, said:
"THInC is a good example of what can be achieved when different organisations work together in partnership. Knowing there is a service available to help you plan travel to an appointment will help patients but also the efficiency of the health service through reduced missed appointments."
Please call THInC on 01343 567839 between 9am-4pm, Monday to Friday. Calls are charged at local rate.
Further information on the Health and Transport Action Plan can be found on the Nestrans website.