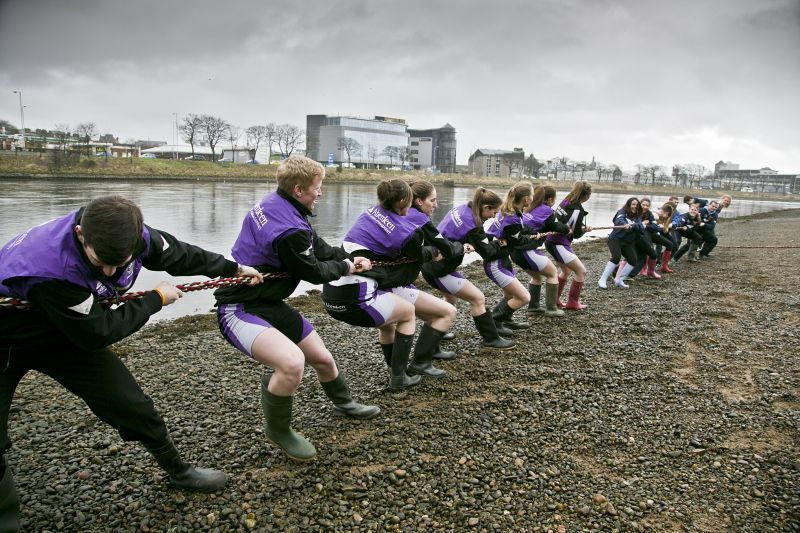 With thanks to Jennifer Kelly, Senior Account Executive, Tricker PR.
The final crews for the 19th Aberdeen Asset Management Universities' Boat Race were announced on Monday 10th February, following months of training from the eager students involved. To celebrate their selection, and test their united strength, the crews gathered on the banks of the River Dee to take part in a tug-of-war.
The annual boat race will take place on Saturday 1st March and will see Aberdeen's two universities, Robert Gordon University and the University of Aberdeen, go head to head to claim the title of boat race champion. Aberdeen [University] Boat Club president Lauren Cammaert and Robert Gordon University president Gillian Paterson carefully selected each crew member, each hopeful that their tactics will lead their university to victory.
The Robert Gordon crew comprises:
Richard Hills (26) from Nairn, Scott Purdie (27) from Dumfries, Adam Luczak (19) from Warsaw, Poland, Morven Shaw (19) from Newtonhill and Holly Reid (19), Iona Reilly (21), Lewis McCue (18), Christie Duff (19) and Emily Geddes (19) from Aberdeen.
Competing in the Aberdeen University team will be:
Lauren Cammaert (23) from Newfoundland, Canada, Ian Walker (19) from Edinburgh, Eilidh Manson (19) from Midlothian, Fiona Bell (18) from Kilmacolm, Inverclyde, Tom Coles (20) from Callander, and Elliot Bruce (18), Henry Gieseler (21), Catriona Bain (22), Jamie Steel (21) all from Aberdeen.
Andrew Laing, Deputy Chief Executive at Aberdeen Asset Management, comments:
"We are proud to continue to sponsor the annual Aberdeen Asset Management Universities' Boat Race. The boat race is a celebrated sporting event in Scotland and both crews have displayed tremendous dedication and passion for the 2014 event, with intense training taking place in all weathers.
"The crews show admirable stamina in their ability to juggle their studies, work and rowing responsibilities and I'm sure, on 1st March, these last few months of hard work will pay off.  I wish the best of luck to both teams."
Hoping to lead her team to claim the 15th boat race victory for the University of Aberdeen is president and cox Lauren Cammaert. Originally from Newfoundland, Canada, Lauren moved to Aberdeen in 1998 and is now studying Medicine. Lauren has been rowing for four years, initially starting as a rower and then moving on to become a cox, and has taken part in the boat race on two previous occasions.
This will be Lauren's first year of competing as president for the University of Aberdeen and she believes she has created the perfect team to make it a winning year for the University of Aberdeen.
Competing against the University of Aberdeen is Robert Gordon University president Gillian Paterson, who is originally from Melrose.
Gillian moved to Aberdeen to study Forensic and Analytical Science at Robert Gordon University, and has been rowing for three years. This will be Gillian's second boat race appearance, and her first time in the role of president.
Gillian is hoping to add to her crew's two-year winning streak and has chosen her team carefully to ensure that they have the recipe for success.
Follow the 2014 Boat Race on www.facebook.com/AAMBoatRace or Twitter @2014BoatRace