Well, they do tend to bottle the big games but this time the Dons delivered, pontificates Voice reporter Andrew Watson.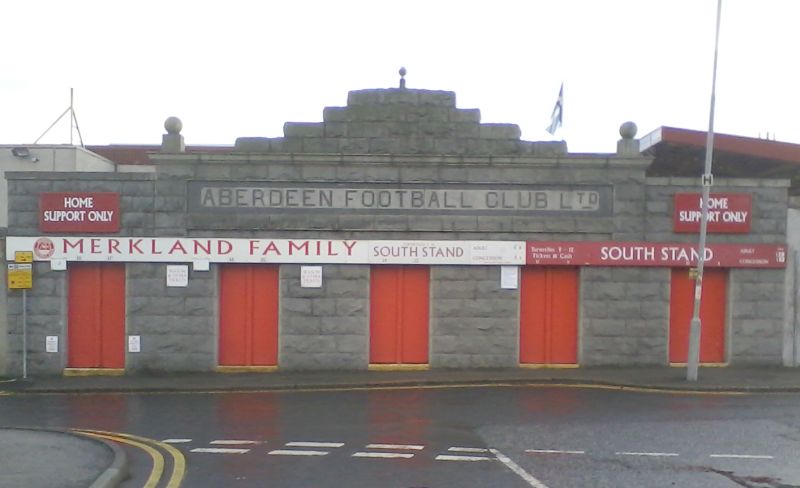 Anytime Aberdeen are in the ascendency and give their fans the opportunity to pack 'Todders' to the rafters, and they duly comply, they disappoint and leave the Red Army irate at the whistle for full-time.
This time, however, was different.
A brisk air with little wind made for ideal weather conditions, especially considering the time of year.
I had my free press pass hot drink and pie to warm the cockles, but felt like a heretic ditching the famous Pittodrie Pie for a more salubrious gastronomical experience – ala steak pie; a shameless premium cut off of one of Angus The Bull's pals. Sorry Angus!
The Easter Road men dominated early proceedings, but more or less slunk into anonymity, with occasional raids into the opposition's penalty area. There were also sizeable claims for a penalty by the home crowd, gobsmacked that referee Craig Thomson waved play on.
On the face of it, the only other part of the game worth mentioning lies well into the heart of the second half, three minutes shy of full-time and four minutes after Scott Vernon came off for Calvin Zola.
Willo Flood picked up a seemingly innocuous clearance from the Hibees back four, and thundered it into the roof of the net from twenty-five yards out. Cue home crowd going absolutely bananas, considering they probably resigned themselves to settle for a dull, goalless draw.
1-0 (Flood) after 87 minutes.
Two minutes later, Jonny Hayes left the pitch to be replaced by Russell Anderson. At the 92 minute mark, Josh Magennis came on for Niall McGinn.
All in all, Aberdeen were almost frustrated by a stubborn and resolutely defensive Hibernian side. I dare say the timely introduction – almost too late – of Zola into the field of play changed the home side's fortunes.
New boy Alan Tate seemed solid enough if not slightly ungainly at times. I hope to eventually eat my words, and that he goes on to be a worthwhile addition to a promising Aberdeen squad.
Final score:  1-0.