David Innes updates us on all things Dickens.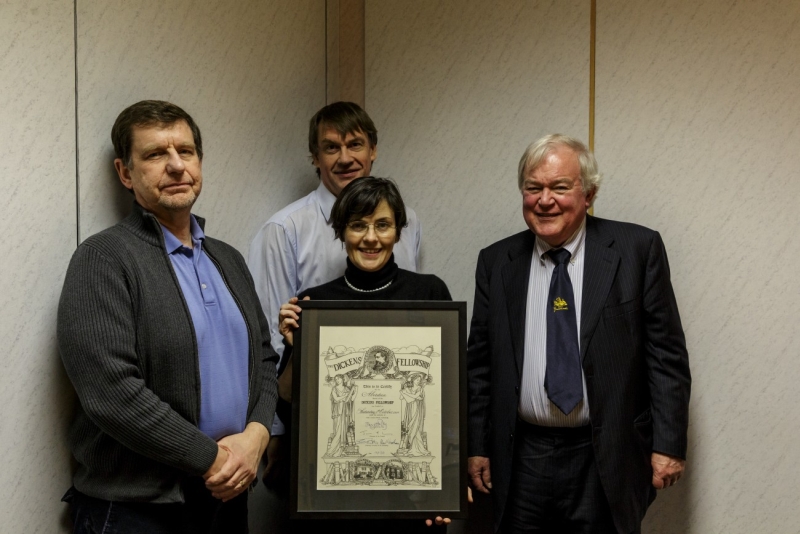 December's, and the second official meeting of the Aberdeen Dickens Fellowship, was celebratory as the certificate confirming its status as a member of the International Fellowship was displayed.
'It is all the more official since the signatures are almost illegible', chairman Paul Schlicke joked.
After commemorative photos were taken by Voice photographer Julie Thompson, and before the official theme of the meeting, 'Detectives and detecting in Bleak House' was engaged, new information of local interest was shared.
A new cache of Dickens's letters has been uncovered, relating to the Guild of Literature and Art, an organisation Dickens keenly promoted. According to the correspondence, the then occupant of Arbroath's Hospitalfield House, offered a house near Coventry to the Guild. The letters indicate that Dickens was delighted with the offer.
Conditions attached to the proposed gift, meant, however, that the Guild had to refuse the offer. Given its connections, Aberdeen members will make a trip to Hospitalfield House in the future. It will also be of interest to delegates if Aberdeen's bid to hold the 2016 international conference is successful.
In his talk, Paul outlined how, before 1829, the "police" were held largely in contempt and members regarded as disreputable by the population.
Dickens satirises them as incompetent in Great Expectations. When the Metropolitan force of 3000 recruits was created in 1829 as a crime prevention force, with only inspectors empowered to carry pistols, but with a multi-purpose bobby's helmet issued, Dickens's attitude to the police changed.
He admired their cleverness and mastery of disguise. He accompanied members, especially the 1846-52 Chief Inspector Field, on duty, seeing at first hand their methods. His journalism frequently featured imperturbable detectives and policemen. Field may have been the inspiration for Inspector Bucket in Bleak House, widely regarded as fiction's first detective.
For all Dickens's championing of the poor and downtrodden and railing against those who kept the poor downtrodden, and for all his overt contempt for the law and do-gooders, he had an obsession with order.
His desire to control everything about his dramas and public appearances bear this out, so it is no surprise that those with a similar outlook, military man Sergeant George and Bucket himself, are sympathetic figures in Bleak House.
Bleak House, we concluded, is full of detecting. There are up to a dozen characters all seeking information, trying to eke out truth and each for his or her own purposes.
Throughout it all, Dickens seems to be keen to expose corruption, hypocrisy and inefficiency and Esther Summerson is held up as an example of how he feels life should be lived – looking after one's self and others and taking personal responsibility in so doing.
2013's final gathering, on 17 December, will be a festive event. Paul will read A Christmas Carol. Members will provide light snacks and refreshments, and whilst it will hardly be a Pickwickian Dingley Dell feast, we will end the year on a suitably celebratory note.
Non-members are welcome at a nominal cost of £3, and the celebration will start at 1830 and go on until 2130. The venue is, as always, Grampian Housing, Huntly Street.
Comments enabled – see comments box below. Note, all comments will be moderated.