By Brian Carroll, Interim Secretary of Aberdeen Trades Union Council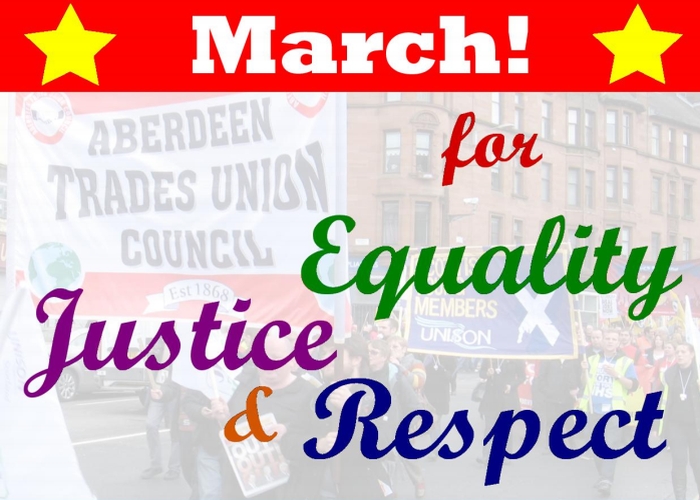 This St Andrews Day, join Aberdeen 's celebration of Equality, Diversity and Respect.
We hope that you will join us in ensuring this event is a success, bringing together communities, celebrating the diversity across our city, and invigorating our on-going struggles for equality, diversity and respect for all.
ASSEMBLE: 10.30 am at St Nicholas Kirk Churchyard, Aberdeen. March leaves at 11am on Saturday November 30th, followed by a rally outside Marischal College, with speeches on a variety of equality issues, by Speakers from across the Equalities spectrum.
This march and rally complements and goes along with the STUC Anti Racist March and Rally in Glasgow on the same day.
We in Aberdeen have a proud record of being a multcultural, diverse and welcoming city to all and have a proud history in promoting dignity, respect, equality and fairness for all, and this day is to promote these aspects of our city.
A range of speakers will be at the rally from across the equalities spectrum, speaking on issues that are having a real detrimental impact on the lives of people across this city and the country as a whole.
We also hope to have representatives from Inverness, Moray and Dundee Trades Union Council along with MSP's, MP's and Local Councillors in attendance along with various local community and action groups who have organised this event with ATUC.
For further information please contact:-
Brian Carroll
Interim Secretary of Aberdeen Trades Union Council
01224 657267 (between 9am and 5pm) OR
07826 890 342