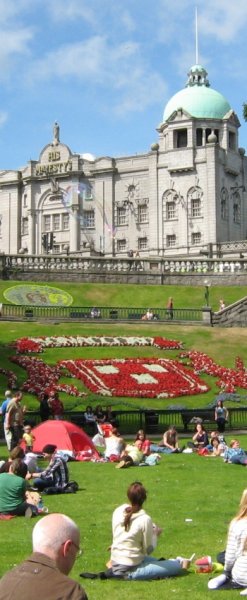 By Bob Smith.
Widdie's noo back,wi mair bliddy cack
The fifty million is back on the table
Bit only ye see, if wi him ye agree
Aat there's only ae horse in the stable
John Halliday's plan, seems nae aneuch gran
The gairdens they still wull be sunken
Is it his fear, aat fowk they drink beer
In the airches wi an attitude drunken?
The plans need transformin, afore the mannie is warmin
Tae ony ideas the chiel wid see fit
If it's nae tae street livel, t'is the wark o the devil
Onything else Sir Ian sees as shit
The P&J it dis cry, compromise wi shud try
Nae chunce o ess cumin tae pass
Sir Ian his a goal, tae fill in the bowl
An smore the gairdens en masse
Widdie's "olive brunch", fin it cums tae the crunch
Is nithing the sort if ye think
An ultimatum mair like, an een wi shud spike
Tho the eyn gemme is noo at its brink
So fa'll raise the bar, in ess oot an oot war?
Wull fifty million bi seen as a bribe?
An concrete wull flow, on the girss doon alow
On champagne Sir Ian wull imbibe
Can the gairdens survive, fowks hopes kept alive
Or micht it dee in a nest o vipers?
Wull siller win the day, in aa ess affray
Help't oot bi some ither snipers?
© Bob Smith "The Poetry Mannie" 2013
Comments enabled – see comments box below. Note, all comments will be moderated.