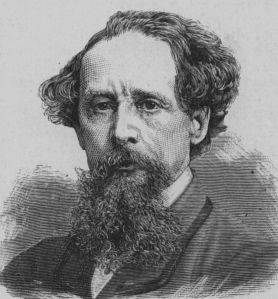 October's monthly meeting of the Aberdeen Dickens Fellowship had a celebratory air about it.
Not only were we to discuss a further aspect of Bleak House, considered to be Dickens's crowning glory as a novelist, we were also treated to the news that the Aberdeen group has been awarded its charter.
Aberdeen's is now the only Dickens Fellowship in Scotland, and part of a global fellowship of thousands, united in their admiration of Dickens and his prodigious legacy of unsurpassed writing.
Further good news is that Aberdeen's offer to host the 2016 Dickens Fellowship International Conference is the only offer received so far by the Dickens Fellowship Council and the bid is finding favour with Council members. What larks, indeed.
So, to the evening's theme, The Topicality of Bleak House.
What were the contemporary events during Dickens's planning, writing and publishing his ninth novel?
Dickens began writing Bleak House, for publication in monthly parts, in December 1852, the year after The Great Exhibition, the first time that thousands travelled to a centrally-organised event.
Stephenson's Rocket had made its first journey in 1829. By 1840, thousands of miles of railway tracks criss-crossed Britain. So inadequate was the road system that Dickens's first journey to Edinburgh in 1834 had been made by boat.
Whilst outwardly proclaiming to improve democracy, the much-anticipated 1832 Reform Act had done little to increase the franchise and improve representation.
The Exhibition was as much a celebration of the fact that the European revolutions of 1848 had not been replicated in Britain and it was a popular self-promoting celebration of the 'transformational, dynamic prosperity' of a mature industrial age.
Dickens hated it, and considered it 'vulgar'. Bleak House, from its opening chapter's evocation of an environment of mud and fog is almost deliberately 'uncreative' in contrast to the Exhibition's boastful celebration of British creativity and global influence.
Chancery, the central bureaucratic monolith of Bleak House, originally devised as a charity to assist the less well-off access to legal representation, was failing. Myriad is the evidence of its failure to act on the behalf of the disadvantaged, as costs associated with never-ending cases swallowed whole estates and inheritances. The Times of the 1850s was running a campaign critical of Chancery. Dickens himself had fallen foul of the lack of protection as his work was plagiarised. The generations-old Jarndyce and Jarndyce case, the novel's all -pervading brooding presence is, from Dickens's pen, representative of all that was wrong in Britain in the 1850s.
Whilst it comprises 67 chapters in 20 books, this is an economical novel. Every character, sub-plot and dialogue is a contribution to the whole. Loose ends are not left untied or are clipped neatly. It is a work of supreme inter-connectivity.
Rather than join in the popular clamour of approval for establishment spin doctors' views of British success, Dickens used Bleak House to shine a light on the vapid, self-consuming nature of public services, to address social deprivation, rounding on the privileged, and on rule-makers and enforcers,
'Dead, your Majesty. Dead, my lords and gentlemen. Dead, Right Reverends and Wrong Reverends of every order. Dead, men and women, born with Heavenly compassion in your hearts. And dying thus around us, every day.'
he thunders on the pathos-laden death of Jo, the crossing sweeper. We agreed that as a social commentator Dickens had earned the right to address those in power who were shirking their social and community responsibilities.
He populates Bleak House with dysfunctional families, where children act as 'parents' to their own neglectful or inadequate parents, where the burden of orphanry is widespread, and in contrast to the celebration of free-market capitalism of 1851, floats the message that we have responsibility for looking after each other. He might have written, 'We're all in this together'.
Esther Summerson, in her narrator role, despite the bad hand she's been dealt as a start to life, is the moral touchstone of Bleak House, demonstrating how to survive and prosper despite hardship and how not to exploit others in the process.
It was quite a night. It's quite a book.
If this has whetted your appetite, new friends are always welcome to attend meetings. Membership of the Fellowship costs £20 for the 2013-14 period, or non-members can attend by paying £3 per meeting on entry.
The programme for the rest of the session is
Tuesday 12 November 2013, a lecture by Dr Dan Wall on The Serialisation of Bleak House, followed by a discussion seminar on numbers 11-15, chapters 33–49.
Tuesday 3 December 2013, Dr Paul Schlicke will, again lecture on the theme, Plots and Detecting in Bleak House, followed by a discussion seminar on numbers 16–20, chapters 50–67.
Tuesday 17 December, Dr Paul Schlicke will read A Christmas Carol
Tuesday 4 February, readings of favourite passages from Dickens's writings by members of the local Fellowship
Tuesday 4 March, Malcolm Andrews lecture, 'The Speech of the Sea is Various: Dickens, Turner and the Sea'.
Tuesday 8 April, seminar on selected journalism. Texts available on-line on John Drew's website http://www.djo.org.uk/
Tuesday 13 May: Fellowship banquet
A warm welcome will be extended to all comers, and lively questioning and debate is almost certainly guaranteed. You can be added to the mailing list by e-mailing Dr Paul Schlicke, Fellowship Chairman at p.schlicke@abdn.ac.uk
For more information, visit https://sites.google.com/site/aberdeendickensfellowship/
– David Innes
Comments enabled – see comments box below. Note, all comments will be moderated.