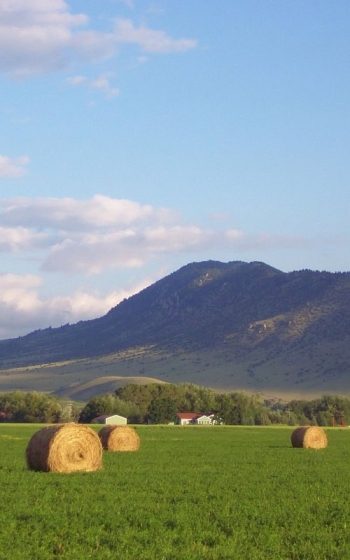 By Bob Smith.
Sunshine floodin throwe the windas
Fillin rooms wi its golden glow
Memories o the fairmhoose kitchen
Ma mither workin tae and fro'
Birdsong burstin fae the hedges
Cocks crowin at the open doors
Yet peace an quairt  wis aa aroon
As wi wint aboot oor chores
Faint ripplin fae the dam weir
As its watters spill't intae the burn
The Ord  jined wi the Leuchar
Alang  its banks I kent each turn
A still can smell the new mown hey
An surroonded bi the clover
A lay and listen't tae the laverock
As heich abeen me it did hover
Stirks' breath in November frosts
Content in the coort they stey
Jist slowly stirrin fae their rest
Fin aetin their neeps and hey
Collies barkin at the merest soond
Their alert sinses at the ready
Thae sentinels faa kept ye safe
Faa's devotion wis ayewis steady
©Bob Smith "The Poetry Mannie" 2013
Image:  Hay Stacks© Taseret | Dreamstime Stock Photos
http://www.dreamstime.com/hay-stacks-free-stock-image-imagefree206796
Comments enabled – see comments box below. Note, all comments will be moderated.