By Bob Smith.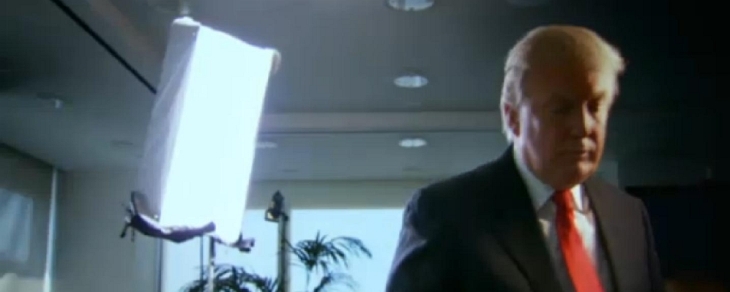 The Donald wis on Panorama
Spikkin tae BBC's John Sweeney
Aboot aa the gyaans  on
At his placie ower at Menie


.


The Sweeney hints tae Mr Trump
6000 jobs hinna cum tae fruition
The Trumpie lot war fair pit oot
An treated aa iss wi derision


.


Donald roared – Git rid o aat hoose
Tae the "P&J" editor's wife
Says she it micht cause a stir
An reap ye lots o strife


.


Faa cares the mannie gabbit
A sure can dee fit a wint
It's on ma lan quoth Donald
Tae the puir dementit bint


.


The hoose belangs tae David Milne
A chiel Trump disna much like
Bit David stuck twa fingers up
An said Trumpie tak a hike
A billie fae the Royal Toon Plannin
Thocht Trumpie's case it wis unique
In aa his 'ears in the plannin game
He'd seen nithing tae cause sic pique


.


Oor First Minister an The Donald
War eence on spikkin terms
They've hid a bit o a faa oot
Ower the plans aboot winfairms


.


Trump wis qizzed aboot his dealins
Wi a mannie fae the Mafia mob
Syne he up's an leaves the interview
Hintin The Sweeney didna ken his job


.


Noo in the pages o "P&J" we read
Business pallies tae his rescue hiv rode
Eence mair tryin tae kid us aa
In the Nor'east the mannie is loed.


.


Birds o a feather flock tigither
A mynd aboot iss  auld sayin
Bit maist o us chiels ken they're aa feels
Faa dunce tae the tune Trumpie's playin
Bob Smith "The Poetry Mannie" 2013
Comments enabled – see comments box below. Note, all comments will be moderated.