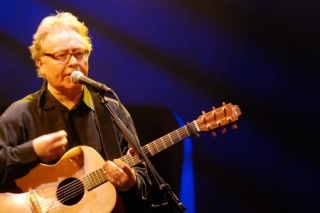 With thanks to
Charlie West.
The Folk of Stonehaven will be celebrating the town's 25th annual Folk Festival this July. The weekend festival began in 1989 with a series of concerts in the Town Hall and a number of fringe activities including workshops, sessions and a Tradition Bearers singing concert.
The festival has grown over the years to include many more events such as the World Paper'n'Comb Championship – a fun 'competition' with a different theme each year and the unique Aqua Ceilidh held in the Open Air swimming pool.
Dancing is to a live ceilidh band and includes well known favourites such as the Splashing White Sergeant and Drip the Willow. Rain or shine this is one for all the family.
This year the organisers have placed an emphasis on highlighting some of the exciting new young talent alongside well-established artists such as Scotland's Dougie MacLean and Paul Brady ( pictured above ) form Ireland. Dougie is well-known as a singer-songwriter and multi-instrumentalist and is famously the composer of Caledonia.
In the 70's Paul started with the supergroup Planxty, going on to establish a very successful solo career in America before returning to his roots in Ireland.
Among the new breed of up-and-coming talent is Rura – a five-piece band featuring pipes, fiddle, bodhrán, guitar and vocals and including three BBC Young Tradition finalists, and Zoe Bestel, the girl with the ukulele, a singer-songwriter of amazing talent and depth of understanding whose repertoire of self-penned songs covers a range of subjects, often with an interesting twist.
There will also be the North East Folk Collective led by Sharon Hassan – a group of 13-18 year olds with some amazing tunes and tight arrangements all ensuring the good health and future of Scottish folk music.
In addition to the Town Hall concerts, there is also a full programme of activities on both Saturday and Sunday. On Saturday there is, weather permitting, a concert in the square, featuring festival artists and local singers and musicians.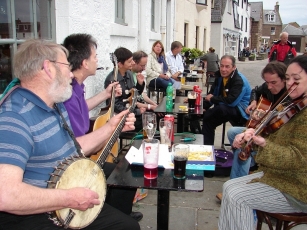 In case of rain the concert will be held in the Town Hall. At 12 noon in the
Belvedere Hotel
, a tutor from
Scottish Culture and Traditions
(SCAT) will lead slow sessions giving less-experienced musicians a chance to learn some tunes and join in the fun.
There will be a big singaround during the afternoon with Danny Couper and Arthur Johnstone showcasing some of the best of traditional Scots song and singers and a series of hosted sessions and workshops throughout the afternoon.
At 1600 the World Paper'n'Comb Championship kicks off, with the theme Loud Shirts. Just about anything goes and fancy dress is optional.
Sunday starts with the unique Aqua Ceilidh in the Art Deco open air pool. The pool has heated seawater so it is always at a pleasant temperature for dancing to the NE Folk Collective Ceilidh Band. This is followed by the Cowie Fringe in the nearby recreation club. This is a mix of festival artists and guests with additional fun things for kids of all ages to do, rounded off with a fun Family Ceilidh.
Also around the town there is the Tradition Bearers concert featuring four of the best traditional singers in the UK followed by the Chorus Cup – a fun completion to see who can get the loudest chorus. There will also be workshops with members of the band Breabach and sessions around the town.
For full details, visit www.stonehavenfolkfestival.co.uk.
Tickets are available online from the Town Hall Trust web site http://stonehaventownhall.org.uk/ from Celtic Chords in Barclay Street, Stonehaven or from the ticket line 07766 851596.
Thursday 11th July
Stonehaven Folk Festival weekend starts here :
Opening Concert in Stonehaven Town Hall – featuring Dougie MacLean, one of Scotland's most successful, respected and popular musicians, Singer-songwriter, composer and 'magical' performer, he is also a fine guitarist and fiddle player.   He will be supported by local singer and musician Ken Clark.
Friday 12th July
Stonehaven Folk Festival big Concert Ceilidh night in the Town Hall starts at 7:30 'till late (well 1 o'clock). Featuring Ray Moore, Rura, Mairearad Green and Anna Massie plus the Occasionals Ceilidh Band.
Saturday 13th July
Stonehaven Folk Festival Weekend : things gets going at 11 o'clock with workshops, sessions, afternoon Open Stage at the Plainstones (Town Square) featuring local artist and Festival guests. Evening concert in the town Hall, guests are the North East Folk Collective, Kristina Olsen and Braebach.
During the day there will be a singaround led by Danny Couper and Arthur Johnstone. There will also be the Steenhive Big Sing with Christine Kydd – a chance to join a group of people and sing together, no experience is necessary and Christine will ensure everyone has fun while learning some songs and harmonies. Don't forget the World Paper'n'Comb championships – this year with a "Loud Shirt" theme.
Sunday 14th July
Stonehaven Folk Festival Weekend – the day gets going with Aqua Ceilidh in the town's open air pool, a great way to clear the cobwebs. Dancing to the North East Folk Collective with dances such as Drip the Willow and the Splashing White Sergeant. The day continues with the Cowie Family Fun Day at the Recreation Club plus more sessions around the town.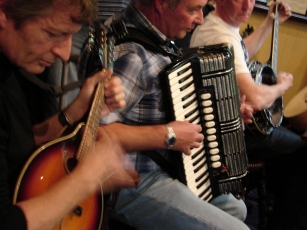 During the afternoon there is a Tradition Bearers concert with four great traditional singers Henry Douglas, Bella Hardy, Jerry O'Reilly and Moira Stewart followed by the  Chorus Cup competition.
The Festival closes with an evening concert in the Town Hall featuring Zoe Bestel, Bella Hardy and legendary singer songwriterPaul Brady.
Workshops with members of Breabach and day two of the Steenhive Big Sing with Christine Kydd.
MC For the weekend will be Martin Kasprowicz
Although tickets are usually available on the door, people are advised to buy tickets in advance as most concerts sell out.
Tickets are available from Celtic Chords, 8 Barclay Street in Stonehaven (01569 763193) or by calling the ticket 'phone 07766 581596 or visiting the Stonehaven Town Hall web site http://www.tickettailor.com/checkout/view-event/id/7885/chk/0d5c
There will also be a Festival Office located in the Upper Town Hall over the weekend; it opens from 4 o'clock on the 11th July for ticket sales and programme information.