With thanks to Claire McBain.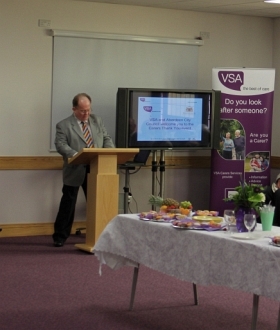 Social care charity VSA's Carers Service kick-started Carers' Week 2013 (10 – 16 June) by launching a £50,000 Carers' Crisis Fund, available to unpaid carers aged over 18 throughout Aberdeen city and shire thanks to a generous legacy.
At a lunch on Tuesday hosted in partnership with Aberdeen City Council, speakers  honoured local carers and, coinciding with the Carers' Week 2013 theme 'Prepared to Care,' asked whether local carers really are emotionally and practically prepared to care, particularly in a crisis situation.
Lucy Whiteman, development manager at VSA's Aberdeenshire Carers Support, said:-
"Three in five people will be carers at some point in their lives.  There are a lot of services to support the people being cared for.  But what about supporting the carer when they need it most?
"VSA is absolutely delighted to receive this fund.  It's open to any carer in the north-east facing difficulty.  We want to reach new carers and help those we're already working with.  It could be a broken down washing machine and a carer who needs funding for a replacement.  It could fund a laundry service for an unpaid carer who's too overworked to do it themselves. 
"A family may need help covering the cost of a call support system for the house.  Or it could be transport to hospital visits.  Funds are obviously limited and we'll support those in greatest need.  But each case will be different but our independent panel will be open to ideas."
Dorothy McBrearty cares for her father who has Alzheimer's, Prostate cancer and COPD and her mother who suffers from two types of dementia:-
"This new fund would have been really beneficial for me.  As their only carer, it's difficult when suffering my own health problems too. When I had to go to the doctor, it could clash with their appointments.  Having emergency help to transport them would have been brilliant."
"Carers in the north-east must take advantage of this.  Being a carer can make you tired and stressed.  You don't want any added strain on yourself or the person you're caring for.  Knowing you can call for help in a crisis would be an amazing comfort."
Lucy continued:-
"This legacy is going to be a huge help in a time of increased crisis and panic.  Carers are faced with more tough decisions that further impact on their busy and often extremely stressful lives.   But having an opportunity to access a Carers' Crisis Fund would be a massive relief during a desperate time.
"Caring for someone else can seriously impact your health, relationships, finances and career.  It has a real knock-on effect.  It's not something you want to handle alone.  The right support and advice is essential.  By getting involved in Carers Week 2013, we can highlight and improve conditions for the 25,000 unpaid carers in Aberdeen city and shire." 
Tuesday's event will include a speech from Len Ironside, convenor of Aberdeen City Council's Social Care and Wellbeing Committee and a personal perspective on preparing to care from local carer Vic Baxter.  There will also be information stalls with specialist staff on hand for advice, open between 11am and 3pm.
VSA's Carers' Service is hosting further local events to raise awareness of the support available:
VSA's Forest Grove, a community-based facility for adults aged over 50 who are cared for at home, will host 'Fun at Forest Grove,' with drop-in sessions Monday to Friday between 10am and 12 noon for carers and those they care for, complete with social activities, Reiki sessions, stalls and raffles.
Fun with Aberdeenshire Carers Support on Thursday 13 June at the Hopeville Social Club, 34 Harlaw Road, Inverurie between 11am and 3pm.  Expecting to attract 100 carers and includes care campaigner Tommy Whitelaw as keynote speaker, refreshments, massage, cookery, floristry, reiki and more.
Staffed information display at Bon Accord Shopping Centre, Monday to Friday during Carers Week, between 10am and 4pm.
Information display at AsdaAberdeenBeach and Sainsbury's Berryden throughout Carers Week.
The funding is the Aberdeen and Aberdeenshire share of a legacy from the late Mrs Nadia Moulton-Barrett, left to The Princess Royal Trust for Carers in Scotland (part of Carers Trust).  The VSA Moulton-Barrett Legacy Fund, known as VSA's Carers' Crisis Fund, will be a responsive grant programme to fund items or services for carers facing challenges.
For more information about VSA's Carers Services, visit its headquarters at 38 Castle Street, call 01224 212021 or visit our website at www.vsa.org.uk.   For more information about Carers' Week events visit www.carersweek.org