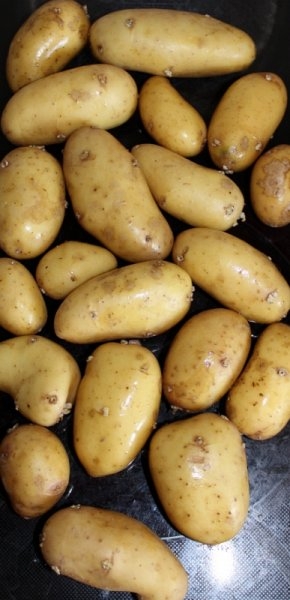 By
Bob Smith.
A makkin o tatties
Fresh fae the dreel
Wi a dollop o butter
It fair tastes richt weel
Duke o York or Kerr's Pink
An wi earth they are barkit
They aa miles aheid
Than fae ony supermairket
Majestic or Golden Wonder
Micht gyang throwe the bree
Bit onything is far better
Than Maris Piper tae me
Fin they're bein plunted
An in earth they are stuck
Myn the best fertiliser's
A gweed pile o muck
So praise the humble tattie
It's gweed an it's cheap
An nourishes yer body
Like an affa fine neep
Jist myn fin yer buyin
Taste it dis maitter
Auld varieties are best
Nae eens fit cam later
Bob Smith "The Poetry Mannie" 2013
Comments enabled – see comments box below. Note, all comments will be moderated.