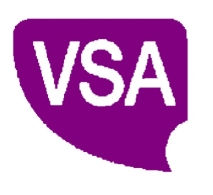 With thanks to
Claire McBain.
Dr. Peter Kiehlmann who is Aberdeen's GP cluster lead, encouraged unpaid carers in the North East to plan for the future of the person they care for if in a worst case scenario, something should happen to the carer. Three in five people in Aberdeen will be carers at some point in their lives.
This was at an event organised by Aberdeen City Council and Voluntary Service Aberdeen's (VSA) Carers' Service, on the 1st of May.
Wilma Collie and her husband care for their 42-year-old autistic son Martin.  She outlined the importance of decision-making on his behalf, urging fellow carers to follow suit:
"As morbid as it sounds, we'll all die one day.  It's something you have to face as a carer.  But it's a huge benefit knowing that if anything happens to us Martin's future is as secure as it can possibly be.  I know he'll be cared for, and I know it will be a simple process for our family to handle.
"I'd been to meetings through the years and heard the word 'guardianship' but thought nothing of it.  Why would I need to be my son's guardian?  I'm his mother.  But I realised having guardianship gave me legal power and a boost to my confidence when discussing Martin's welfare. 
"The process took over two years but it was well worth it.  I've noticed the difference already when dealing with Martin's affairs.  It may seem like a daunting process but it's not.  Legal experts are there to help.  Carers need to take advantage of their expertise.  Don't let potential costs hold you back either.  Everyone's circumstances are different but it is possible to do the process for free."
Lesley Gray, the team leader at VSA's Carers' Service, said:
"Unpaid carers do an amazing job. But they have insanely busy lives and may not have time to delve into planning for the future. What if something was to happen to the carer?  Cared-for people must have their future safeguarded.  We want to get people thinking and planning. 
"We all hope it won't happen but prevention is better – and easier – than cure. In a time of crisis and panic, they would be faced with a lot of decisions. We want to make life easier now and in future.  It's so important to give carers an insight into what's available."
The event included a welcome from Len Ironside, convenor of Aberdeen City Council's Social Care and Wellbeing Committee, a personal perspective on planning from Wilma Collie and presentations on power of attorney and guardianship.  Relevant services including Aberdeen City Council's Welfare Rights and Transitions Teams, Advocacy Aberdeen and Alzheimer's Scotland were represented with information stalls.
Further information: according to Carers UK, there are nearly 6 million carers in the country.  The Scottish Household Survey, conducted by The Scottish Government in 2010 reported 657,300 carers north of the border.