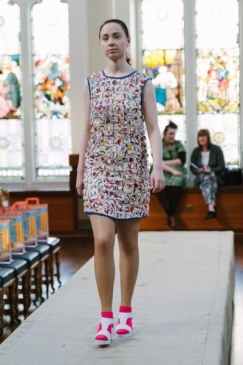 By
Suzanne Kelly.
"Don't expect too much; these are only 2nd and 3rd year fashion students" was the caveat for a recent show by Gray's School of Arts fashion students.
They were all a year or two at least from their final degree fashion show, and could hardly be expected to do more from their outing as fledglings.
The Seven Incorporated Trades of Aberdeen, headquarters on Holburn Street was the venue; the links between it and Gray's stretch back many years now.
If anything, having such a beautiful setting and bringing collections in front of professional weavers and other craftspeople might well have proved daunting. 
No one – not even the course instructors, technicians and course leader knew quite what would happen.
Stunning
The organisation, the students' speeches, the elegant wine and canapé reception were polished.  But the calibre of the work on show was beyond all expectations.  There wasn't a piece on show which couldn't have been in a final year student's collection.  Imaginative, daring, colourful works were all on show, but perhaps the biggest surprise was the number of pieces which could have instantly translated to retail.
Standouts
A man's slightly oversized tweed coat had an asymmetrical back seam; it moved beautifully.  A tweed tulip-style short-sleeve dress in an earthy gray-green featured brightly coloured orange silk insets at the hem, rising to differing heights towards the model's waist; it was an elegant and wholly modern and refreshing use of tweed.
The orange inserts caught the eye and made for an amazing colour contrast with the muted colours of the body of the dress as the model walked.
Other tweed pieces for women were eminently wearable.  These outfits were sophisticated and ideal for work, and quite timeless.
A simply cut sleeveless dress featured dozens (if not hundreds) of delicate, possibly hand-painted hexagons of multi-coloured material, probably silk.  The overall impression these hexagons and colours gave was three-dimensional, kinetic, elegant, highly original and extremely. pleasing.
A long, romantic dress tightly fitting then cut with high, thick fringe at the skirt melded several types of fabric dyeing/printing together beautifully; the colours were muted but large patterns made it a very striking piece.
Memorable work came from every collection; there were beautiful blouses (a blue and white number seemed ready for high-end retail), skirts, asymmetrical coats…
Designers and Sponsors
The collections were Tweed Outerwear, Covered, Body of Space, This Place is Dreaming, Knack & Knave, Anarchy, Colour Against Conformity and Alternative.
As a final piece of professional fashion show tradition, goody bags were supplied containing gifts from Lush Cosmetics and literature from some of the sponsors, which were The Aberdeen Weaver Incorporation, The Seven Incorporated Trades of Aberdeen, Amicus Apple, Lush, The Athenaeum, and Daniel McAVoy Photography.  The makeup for all the models was done by one person – Emma McMahon – who also had work in the show.
The Future
Gray's School of Arts Libby Curtis spoke briefly at the end of the show; she genuinely seemed as surprised by the calibre of the show and the organisation as the rest of the audience.  A member of Aberdeen Weavers had very positive things to say as well.
Recognition is growing for the Fashion arm of Gray's, and this trend seems set to continue.  At the final degree show last year, the list of awards, prizes and internships won by the graduates made for a long, impressive list.
This crop of students look set to raise the beam further.  They look set to succeed on a foundation which clearly encourages experimentation, creativity, and collaboration.  There seems to be no fear of tradition or elegance, and no reliance on sensationalism or gimmickry.  This will be a crop of students to watch.