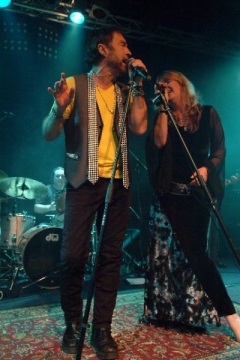 On Saturday April 1st,
Paul Rodgers, Deborah Bonham
and her band (along with special guests) returned to The Venue in Chichester to raise the roof one more time for animal charities including Willows Animal Sanctuary in Aberdeenshire.
Paul Rodgers and his wife Cynthia are Patrons of Willows which takes in a massive number and variety of welfare cases from cats to pigs to horses.
Currently they are home to 300 animals.
Deborah Bonham and her husband guitarist Pete Bullick have adopted both of her dogs from Mount Noddy which specialises in dogs and cats.
Cynthia Kereluk Rodgers and Deborah visited the Cat & Rabbit Rescue Centre near Chichester and were impressed with the care and handling of their two hundred cats! So a donation will be made to them as well.
Rock memorabilia were the hot items in the live auction with two Autographed Led Zeppelin Posters bringing in £500 ($763.00 ) and £850 ($1298.00 ).The highest grossing auction item was a Bad Company autographed guitar including tickets to a concert this summer in the US bringing in £1100  ($1679.00 ).
The biggest surprise of the evening was when Elaine and Chris Fairfax from Animal Friends Insurance handed over cheques to the tune of £15,000 ($22,888 ) to be divided equally between the three charities.
Jenny of Willows Animal Sanctuary commented:-
"We are absolutely over the moon to have such wonderful, lovely talented people supporting Willows Animal Sanctuary! It means so much to have dedicated Patrons. Paul Rodgers and Cynthia Kereluk Rodgers are such kind hearted and beautiful individuals and care so much about animal welfare.
"Our thanks go to all that helped with the fantastic concert: we know it took a lot of organising and many dedicated volunteers. Deborah Bonham and Peter Bullick are also amazing. Thank you both so much for all the time and energy you have put in to this concert. Everyone at Willows thanks you all from the bottom of our hearts."
Deborah Bonham performed some songs from her new CD Spirit (limited edition pre release CD Digipak out now on tour ahead of the September CD, Vinyl and Digital release) during her 1 hour set. To the fans' delight Rodgers played a 90 minute set of songs from just his Free catalogue, some he had not performed in 40 years!
Paul Rodgers said:-
"Once again the evening was a huge success. Our fans and friends come through every time- it's quite amazing. Now Willows can breathe a sigh of relief as this funding will see them through July. Thanks to everyone from the fans, musicians, volunteers to all of the musicians and artists who donated items."
Comments enabled – see comments box below. Note, all comments will be moderated.