With thanks to Claire McBain.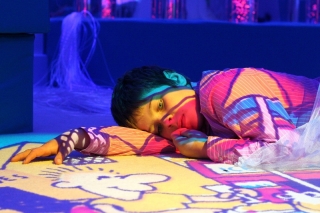 To commemorate Autism Awareness Month, Graham Andrew and Stefanie Milne, will run the 2013 Virgin London Marathon to raise £3000 for Linn Moor School. Their eleven-year-old son Lewis, who has autism, as well as delayed speech and language, ADHD and hyper-sensitivity syndrome, has attended the school for four years.
Graham said,
"I can't begin to explain what Linn Moor and VSA have done for us. They've kept us together as a family. They've provided so much respite, not just for Stefanie and me, but also for our daughter Leona who goes to VSA's Young Carers' service  She's not much younger than Lewis and they grew up together, but she's done a lot that most kids of her age could ever imagine.
"Neither of us are runners.  It was just one of those things that we thought 'I really fancy doing that one day,' and decided to go for it now, whilst we still can. The training is hard but knowing I'm doing it to raise much-needed funds for Linn Moor is a tremendous motivation.
"Lewis has come on leaps and bounds since he joined. Before, he wasn't very forthcoming with information but now he's able to offer chat and tell us about his day at school.  It's truly amazing."
Lewis became a Monday to Friday residential student at Linn Moor a month ago.
Graham explained,
"We resisted residential care for as long as we could but we always knew it might come to it. He's settled in so well though and has a lovely room. When he's there he loves it, but we were determined it wouldn't be full-time. Our family misses him so much during the week and it's great to see him every weekend." 
Shona Duff, general manager at VSA's Linn Moor School, said,
"It's great to hear about people tackling ambitious personal challenges while fundraising for us at Linn Moor. We're lucky to have such passionate parents who want to get involved and support the cause.  Generous efforts like this are essential to keep giving our students the best care, support and education possible."
The couple, who live on Abbotswell Road, Aberdeen, are encouraging people to attend a fundraising ceilidh at The Douglas Hotel on Friday 22 March. There will be two ceilidh bands, a fiddler, with local comedian Peter Wood compering, Tickets cost £15, including stovies.