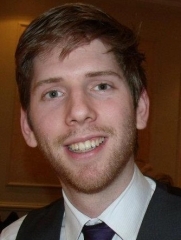 A local Scottish Youth Parliamentarian says the government is 'creating a lost generation.'  With thanks to
Kenneth Watt.
Earlier this week Kris Chapman ( pictured ) of Aberdeen City Youth Council, who is also a Member of the Scottish Youth Parliament (MSYP), met the President of Aberdeen College Student Association to discuss the drastic effects and implications which the Scottish Government's proposal to cut £34.6 million of funding to Scotland's Colleges would have on Aberdeen.
Following their meeting Mr Chapman said:
"The impact and long term ramifications this will have on Aberdeen, not only for those attending college now but those who would be looking to do so in the future, will be hugely significant to the North East.
"Our colleges across Scotland, just like Aberdeen, play a vital role in shaping our nation's future, helping to provide a much need skilled workforce to help re-energise our weak economy.  I therefore finding it baffling that at a time when we should be investing in to our future to ensure that they have the skills for tomorrow, the Scottish Government is pulling the rug from under our young people's feet and creating a lost generation.
"We have already seen that the number of support staff drop by more than half.  Aberdeen College's campuses have decreased from four to two and the North East region's only Service Engineering course has been dropped, forcing those in the Grampian region who would have studied to now look to Glasgow or Ayr.
"We are losing our young talent from the North East.
"If these cuts are to go ahead then it will see Aberdeen College's budget slashed by up to 50% in the next few years.
 "I strongly urge the Scottish Government to rethink these proposals, to invest in our colleges and fund Scotland's future for generations to come."
Summing up the situation, Lani Baird, President of Aberdeen College Students' Association said:
"In these tough economic times, with such high unemployment, we need to recognise the role that colleges play, and ensure that they are well-funded.
"Aberdeen, Banff and Buchan, and other colleges in the North East have the ability to change communities and lives, whether it's by creating opportunities for people to enter post-16 education for the first time, or by giving them the opportunity to return to education to learn new skills for new jobs.
"If we're to protect students in the northeast and throughout Scotland, we need to fund our colleges.  
"In the coming days, we will be asking MSPs from all parties in the north-east to listen to our students and work together to reverse the £34.6M cuts proposed for colleges, and fund Scotland's future."
 Commenting after the discussions between Kris and Lani, Chair of Aberdeen City Youth Council Barry Black noted:
"Aberdeen College is vital to our economy and society.  Not only does it provide an alternative route to University, it supplies the skills and qualifications essential to open up to doors to many careers.  It is also essential for lifelong learning.  
"In Aberdeen, we will have a huge skills gap in the energy sector by 2020 and we cannot hope to fill that gap through training and re-training people wishing to go into the energy sector without well-funded Further Education."
 Comments enabled – see comments box below. Note, all comments will be moderated.