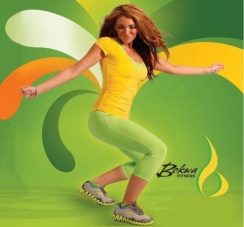 Bokwa
– the brand new approach to exercise that is taking the world by storm, has arrived in Aberdeen. With thanks to
Dave Macdermid.
The brainchild of dancer and fitness instructor Paul Mavi, Bokwa takes its name from BO – light boxing, and KWA – which symbolises the traditional dance Kwaito. Bokwa is not really a dance workout – there is no choreography or counting steps and participants draw letters and numbers with their feet, while moving together to chart music in free form rhythm.
Under the supervision of qualified instructor Jodie Macdermid, Ferryhill Community Centre will host an hour long session on Wednesday evenings from 6.15 pm, at a cost of only £4 per lesson.
As Jodie says:
"If you can move and you can spell, you can do Bokwa.
"From 4 year old kids, to men and women in their seventies, to guys with '2 left feet,' to world champion dancers – Bokwa engages participants of all ages in the same class and to the same music.
"Given you can burn off more than a thousand calories in a one hour session, demand is likely to be substantial, particularly at this time of year."
Bookings can be made in advance by calling 07517 054125, emailing Jodie at jodie_mac@msn.com or by logging on to www.facebook/BokwaZumbawithJodie
Further information on Bokwa can be found at www.bokwafitness.com