How Sir Ian Grinch Stole Christmas by Dr. Suz (with apologies)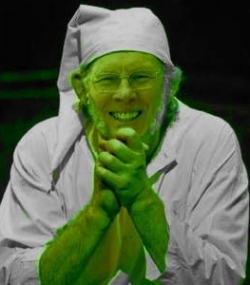 T'was the night before Christmas in old Aberdeen
Or should I say Whoodville, yes, that's what I mean
Every Whoodie in Whood-ville
Liked Christmas a lot…
But Sir Ian Grinch
Did not like it one jot!
The town settled down for a long winter's nap
Except for this one crinkly, creaky old chap
Sir Grinch hated Christmas! It might be because
He didn't believe in a Sanity Clause
The children were nestled all snug in their beds
But Sir Ian Grinch was pacing instead.
Perhaps Ian's head wasn't screwed on quite right.
It could also be he was simply just tight.
But I think that the most likely reason of all
Was the Whoodies in Whoodville said no to his mall.
Out on the lawn there arose such a clatter
When Grinch said the ancient great trees didn't matter
"Let's cut them down and let's build some parking!"
But the Whoodies thought Grinch was really quite barking.
Now this Grinch wanted granite – a web of it really
With shopping and theatres and parking, ideally.
But the Whoodies said 'No' to his project 'It's crass!'
We want our trees and our wildlife and grass.
It was his way or no way, he'd not give an inch
So the web was abandoned; this angered the Grinch
The moon on the breast of the new-fallen snow
Gave Whoodville a vibrant and dynamic glow.
"If there's no web for me then I'll make very sure
"My money will go and help Africa's poor"
"That will fill all the Whoodies with remorse
("And I'll avoid being taxed at the source").
Ian was grouchy and grinchy, indeed
The size of his heart was no match for his greed
He stood there on Christmas Eve, hating the Whoodies,
And envied their happiness and all their goodies
On Christmas day all of the Whoodies would gather
Down in their Gardens for coffee and blather
Whoodies, young and old, would sit down to a feast.
And they'd feast! And they'd feast!
And they'd FEAST! FEAST! FEAST! FEAST!
They would start on Whood-pudding, and rare Whood-roast-beast
Which was something Sir Grinch couldn't stand in the least!
And THEN
They'd do something he liked least of all!
Every Whoodie in Whoodville, the tall and the small,
Would stand close together, with Christmas bells ringing.
They'd stand hand-in-hand. And the Whoods would start singing!
They'd sing! And they'd sing!
AND they'd SING! SING! SING! SING!
The more that Sir Grinch thought of the Whood-Christmas-Sing
The more Ian thought, "I must stop this whole thing!
"Why, for seventy years I've put up with it now!
I MUST stop Christmas from coming!
…But HOW?"
Then he got an idea!
An awful idea!
THE GRINCH
GOT A WONDERFUL, ACSEF IDEA!
"I know just what to do!" Sir Grinch said with a sneer
"I'll steal every trace of their Christmas this year.
"I'll threaten to take my web money once more
"And threaten to give it to Africa's poor."
"And while I'm at it I'll steal all their stuff"
(It seems being a billionaire wasn't enough)
Sir Grinch owned most Whoodville it's certainly true
His wealth would have satisfied both me and you
But when the old Grinch couldn't get his own way
And get his Web built, then he vowed they would pay
He made a quick Santy Claus hat and a coat.
And he chuckled, and clucked, "Why you handsome old goat!"
"With this coat and this hat, I'll look just like Saint Nick!"
"All I need are some reindeer…"
The Grinch looked around.
But since reindeer were scarce, there was none to be found.
(The reason that no deer were found in the town
Is Grinch's friend Aileen had had them shot down
Her cruelty and greed caused a Whoodville petition
The people agreed there will be no repetition)
Did that stop the old Grinch…?
No! Not one little bit
"I'll just need to call on a couple old gits
"If I can't find some reindeer, I'll make some instead!"
(I think the poor man must be oot of his head)
So he called lackeys Tommy and Colin to come
Which they quickly did, those poor dears were quite dumb.
And he tied great big horns on top of their heads.
(It seems that these lapdogs were easily led).
He was dressed all in fur, from his head to his foot,
The old Grinch couldn't wait ta get oot and aboot.
THEN
He loaded some bags
And some old empty sacks
On a ramshackle sleigh
And he hitched up dogs Tommy and Colin, whey hey!
Then the Grinch said, "Giddyap!"
And the sleigh started down
Toward the homes where the Whoodies
Lay asleep in their town.
All their windows were dark. Quiet snow filled the air.
All the Whoodies were dreaming sweet dreams without care
When he came to the first house near to Union Square.
"This is stop number one," The old Grinchy was there.
His eyes-how they twinkled! his dimples how merry!
His cheeks were like roses, probably had too much sherry.
And he climbed to the roof, empty bags in his fist.
Then he slid down the chimney. A rather tight pinch.
But if Santa could do it, then so could the Grinch.
He got stuck only once, for a moment or two.
Then he stuck his head out of the fireplace flue
Where wee Whoodie stockings all hung in a row.
He stole left, right and centre; he got on his knees
He swiped BrewDogs, Glenfiddich and Zeppelin CDs
And just to increase the Whoodies distress
He left unsold copies of Evening Express.
And he stuffed all their gifts in his sacks and then nimbly,
Stuffed all the bags, one by one, up the chimney!
The stump of a pipe he held tight in his teeth,
And the smoke it encircled his head like a wreath.
Then he slunk to the icebox. He took the Whoods' feast!
He took the Whood-pudding! He took the roast beast!
He cleaned out that icebox as quick as a flash.
Why, that Grinch even took their last can of Whood-hash!
He spoke not a word, but went straight to his work,
And stole all the stockings, he was such a jerk!
Then he stuffed all the food up the chimney with glee.
"And NOW!" grinned Sir Ian, "I will stuff up the tree!"
"I'll have theatre seats carved from it, just wait and see
"Down with the trees, turn their wood into chip
"For my web and its theatre" (he was quite a dip)
Then he heard a small sound "This can't be good!"
He turned around fast, and he saw a small Whood!
Twas Marie-Lou Whood, who was not more than two.
The Grinch had been caught by this little Whood daughter
Who'd got out of bed for a cup of cold water.
She stared at Sir Ian and said, "Santy, why,
"Why are you taking our Christmas tree? WHY?"
But, you know, that old Grinch was so smart and so slick
He thought up a Whood lie, and he thought it up quick!
In that he had practice, his cunning renown
A cunning which had torn Whood businesses down
"Why, my sweet little tot," the fake Santy Claus lied,
"There's a light on this tree that won't light on one side.
"So I'm taking it home to my workshop, my dear.
"I'll fix it up there. Then I'll bring it back here."
So he fobbed off the child with yet more of his lies
The master of false promises, spin, alibis
And he got her a drink and he sent her to bed.
And when Marie-Lou Whood went to bed with her cup,
He went to the chimney and stuffed the tree up!
Then the last thing he took was the fireplace wood.
His hatred of trees and his greed were no good.
He did the same thing
To the other Whoods' houses
Leaving crumbs
Much too small
For the other Whoods' mouses!
His droll little mouth was drawn up like a bow,
And the hair of his head was as white as the snow.
When he packed up his sled he was most ecstatic,
(By this time the Grinch was extremely erratic)
He had all of their presents! The ribbons! The wrappings!
The tags! And the tinsel! The trimmings! The trappings!
"I'll just head to the Gramps and on old Tullos Hill
"I'll fly-tip these presents" (so much for good will)
"Pooh-pooh to the Whoodies!" the old Grinch was singing
"This year they'll be no Christmas bells ringing.
"They're finding out now that Christmas was snatched
"Oh what a brilliant idea I have hatched.
"They're just waking up! I know just what they'll do!
"Their mouths will hang open a minute or two
"The all the Whoods down in Whood-ville will all cry BOO-HOO!"
"They'll say 'Give us a web for we now need it more
"Then food, clothes and shelter would help Africa's poor'.
"Give us more malls, and give us more shopping!
"They'll beg for my web – oh those Whoods will be hopping!"
"That's a noise," grinned the Grinch,
"That I simply must hear!"
So Sir Ian Grinch put his hand to his ear.
And he did hear a sound rising over the snow.
It started in low. Then it started to grow…
But the sound wasn't sad!
Why, this sound sounded merry!
It couldn't be so!
But it WAS merry! VERY!
He stared down at Whood-ville!
Ian could not believe
Despite all of his efforts to plunder and thieve
What met his eyes was a shocking surprise
Each Whoodie in Whood-ville, the rich and the poor
Was singing! He shook to the core.
He HADN'T stopped Christmas from coming!
IT CAME!
Somehow or other, Christmas survived!
In fact you could even say Christmas had thrived.
He stood puzzling and puzzling: "How could it be so?"
"It came without ribbons! It came without tags!
"It came without packages, boxes or bags!"
It was as if shopping was not the reason
For people to celebrate during this season.
Even without lots of designer gear
Somehow Christmas had still made it here.
And he puzzled three hours, `till his puzzler was sore.
Then the Grinch thought of something he hadn't before!
"Maybe Christmas," he thought, "doesn't come from a store.
"Maybe Christmas…perhaps…means a little bit more!"
And what happened then…?
Well…in Whood-ville some of them say
That the Grinch's small heart
Grew three sizes that day!
And the minute his heart didn't feel quite so tight,
He whizzed with his load through the bright morning light
He said "Look what I just found when passing through Torry
"Nicked presents, which fell off the back of a lorry"
And he brought back the toys! And the food for the feast!
And he…
…HE HIMSELF…!
Ian Grinch carved the roast beast!
Merry Christmas to All, and to All a good night!
Well if you are reading this dear Mr Wood
You still have a chance to make everything good
Why not help the poor both here and abroad?
Doing so would be the greatest reward.
We need our green space, clean water and air
Even the finest web could not compare.
We've things in this town nowhere else to be found
So lay off our gardens, our common good ground.
If you want gratitude you'd get it indeed
By helping the helpless, the people in need.
So many things you could do with your money
The difference you'd make – it's not even funny.
Next time please ask us, don't dictate your plan
People are asking what kind of a man
Would cause such division, pitting friend against friend
Ian your web plans have come to an end.
Give up the ghost, take up some other cause
That's all I'm saying – goodnight –
– Santa Claus
 Comments enabled – see comments box below. Note, all comments will be moderated.