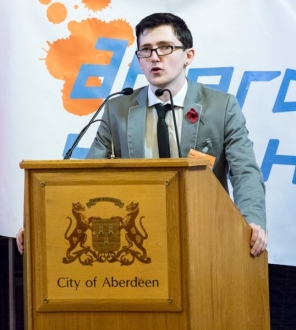 With thanks to
Kenneth Watt.
The Aberdeen City Youth Council says that schools' communication must be improved before the Curriculum for Excellence can be achieved.
The Youth Council's forum event took place on Saturday 10th November. It hosted over twenty youth groups and charities, as well as councillors, MSPs and MPs. This 'Showcase Event' aimed to highlight issues facing young people in the city and set the agenda for the Youth Council's year ahead.
A question and answer session held with Councillors Jenny Laing and Ross Thomson, the Convenor and Vice-Convenor of the Education, Culture & Sport committee, allowed the 70-strong audience to quiz the pair.
Topics covered included future school provision, reviews taking place and how the committee is planning on listening to the views of young people in decisions it makes.
One issue highlighted by young people was that communication in schools can be incredibly poor, with head-teachers reluctant to allow pupils to go to events such as the Showcase for fear of 'showing up' flaws in their school. The Youth Council also discovered that only a handful of schools have a pupil council, something which the audience unanimously agreed should be compulsory.
Barry Black, chair, said:
"With schools adopting the Curriculum for Excellence over the next year, it strikes us as worrying that few schools will distribute invitations to charity events, or information on youth groups that can help schools in the city."
"The fact that we had to go to the Acting Director for Education to get a reply from some schools for an event designed to listen to the concerns of pupils struck us as absurd."
"How can schools embrace the Curriculum for Excellence if they're not allowed to develop themselves outside of the classroom?"