With thanks to Kenneth Watt.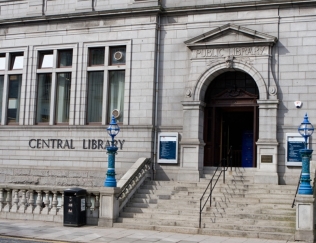 A senior youth councillor in the city, has supported plans to reconsider the current set-up of libraries in Aberdeen, claiming that resources can be focused in order to meet demand and modern needs for citizens.
Drawing reference to the report going before the Education, Culture and Sport committee on Thursday, Mr Watt highlights that:
 "There are more community libraries in the city than are needed to adequately serve the population.  Not all libraries are in ideal locations to meet the needs of the local communities they serve."
Kenneth believes that possible library closures should not be ruled out and that the reviews should coincide with the schools estate dialogue which is starting in September. He said:
"Libraries are an integral part of communities and serve all generations. We need to be realistic about usage, though.  In 2012, more and more people need to use the internet, especially with changes to the way that benefits and council services are delivered.
"At the moment, we have an estate with a surplus of facilities.  Almost a half of our libraries have a poor suitability rating.  Resources need to be better focused.
"Particular praise and notice needs to be directed at the success of Bucksburn 3Rs estate which has seen a fantastic new secondary join forces with the library and leisure centre.  I'd be supportive of similar projects.  The council are looking at new primaries being built to match demand and sustainable, modern-day, libraries could be paired with these.
"Library closures in the past have been controversial nationally.  We need to look at what the modern citizen needs and how those wants can be met.  Modernisation needs to be embraced and if done correctly will be for the better."
 Comments enabled – see comments box below. Note, all comments will be moderated.