WTA tour professional Sarah Borwell is in Aberdeen on Friday evening to give a presentation on the opportunities within the extremely successful US collegiate system.  With thanks to Dave Macdermid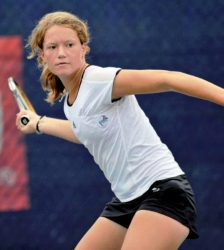 Sarah, who has established Tennis Smart, a company that looks after player welfare in the US, is currently undergoing rehabilitation after an injury and plans to return to competitive action later this year.
The visit to Cults Tennis Club was coordinated by well known local coach Kris Soutar who explains that while tennis is the main focus of the event, there will be plenty to interest players, coaches and parents of other sports:
"You only have to see how many successful athletes in the London Olympics have come through the collegiate system in a whole variety of sports to realise how successful it is and of course these are the high profile examples.
"The US system also has a massive emphasis on the educational aspects of students' development and those receiving scholarships may end up in law, accountancy, journalism or whatever, often in a vocation still connected with their chosen sport."
Sarah, who came through the collegiate system herself, is under no doubts as to the benefits it can offer:
"By offering an attainable goal of a sports scholarship, we give kids something to strive for, which is in reach.  We inspire youngsters to want to keep working hard and most importantly playing their chosen sport.  College helped me be successful.  I wasn't ready at 17 to turn pro, so I stayed in education, developed, grew up and, by 22, I knew I was ready to turn pro."
Aberdeen's Joanna Henderson, one of the country's best teenage players, commenced a tennis scholarship last August in Tennessee where she currently stars for the University's tennis team.
Entry to Sarah's presentation at Cults Tennis Club, which gets underway at 7pm on 3rd August, is free.
For further information, contact Dave Macdermid at dave.macdermid@bigpartnership.co.uk  or on 07805 436988