A look at more contradictory information from different arms of the council – with deadly consequences for the Tullos Hill Roe Deer by Suzanne Kelly.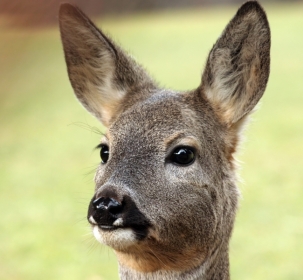 In the first instalment of 'Truth', I revealed part of Valerie Watts' response to my formal complaint.
This contained the shocking story of how we have already paid £43,800 for a previous failed plantation on Tullos Hill – and that Ms Watts failed to clarify the existence of this debt when asked.
In fact, Aberdeen Council (ie the taxpayer)
"could be liable for a reclaim of up to £120,333.91"
if trees to be planted fail, says a
Forestry Commission Scotland letter
.
The second part of the story will examine Watt's response in more depth, revealing yet more contradiction; council use of general statements to justify the specific Tullos Hill situation; and the deliberate snubbing of experts who offered objections to as well as solutions to this completely arbitrary tree-planting.
As detailed in Part One, I launched a formal protest following my researches into the details of the tree scheme and the cull; these can be found in Aberdeen Voice. I found no fewer than 10 main points, which I felt the Council should be called to account on.
See: https://aberdeenvoice.com/2010/12/10-more-reasons-to-call-off-the-deer-cull/
The Council and I have traded emails back and forth. My specific, targeted questions are largely going unanswered. Either that, or I get sweeping, non-specific statements (such as 'deer culling is perfectly normal' – which has nothing to do with killing deer to protect trees that could be elsewhere – or not planted at all). This all wound up in my formally complaining, and the initial response from Ms Watts was much in the same vein as what I had heard before. I sent a reply, which I had to chase twice.
The first time I chased my reply was 8 July. The Council now say that they sent a reply to me on 11 July, and this date appears on a letter sent via email (although there is no trace of it in my inbox).
Interestingly, their first letter, also sent by email, was addressed to me at my home, and was posted. The second letter the city says it sent on 11 July did not include my street address, and certainly did not ever reach me in the post. I do wonder why they would change their method of communication.
But there are larger points at stake.
Time is running out, and this article cannot touch on all the new information or recap all of the previous points raised. There are previous stories still available on Aberdeen Voice, and a good deal of information can be found on the internet.
If at the end of reading this and other articles you decide you want the deer spared, then please contact your councillors as soon as you can, as well as the City Council. Your voice can make a difference yet. Details of councillors can be found at:
http://committees.aberdeencity.gov.uk/mgMemberIndex.aspx?bcr=1
Here is a selection of some (certainly not all) of the issues arising from my last letter from Valerie Watts – the one that never arrived either in the –post or by email at the time it was meant to have been sent. Sadly, I am not getting any closer to getting any definitive, meaningful answers, which the following examples will show. It is time for everyone concerned for the deer to consider other forms of action.
Income from trees? Depends who's talking
Various council officers and rangers have written to me saying that there will be 'income streams' from the trees.
In fact, some of the reports say that some income can be relied upon from this giant forest in time. I asked Ms Watts for the financials. She replied:
"There is no business plan to justify the potential future timber crop and subsequent potential income stream."
Either Ms Watts is right and the rangers and others who mentioned an income from the trees are wrong – or the City is confused. In fact, here is what the public consultation for phase 2 said:-
"… the trees should be well established and require minimal maintenance before they start generating income"
Which leads us to Watts' comments on the public consultation.
Public Consultation: 'was robust'
We have already established what a flawed, misleading document this phase 2 consultation exercise was, but Ms Watts insists the consultation was 'robust'.
Those supporting the tree scheme are adamant that the consultation was never about the method of tree planting, and it was not relevant. This is the excuse they give when asked why shooting the Tullos deer was not in the document.
If it had been mentioned, the scheme would never have passed the public consultation in a million years. But people like me and those I have spoken to cite this passage from the public consultation as the reason we thought the deer were safe:-
"Where necessary some sites will require rabbit fencing to minimize damage from rabbits…"
If you read this document, you would come to the conclusion that animal damage had been considered: why mention fencing to control rabbits and not mention damage from other animals? I concluded –as did dozens of others (and more) that if deer were a problem, they would likewise have been mentioned.
We now know that in November 2010 the Council and Scottish Natural Heritage were already planning to shoot the deer to plant these trees: they just decided not to tell us this.
The Scottish Natural Heritage letter suggests handling the public over the deer. Well, the public has most definitely been misled by this poor excuse for a consultation. It was biased. It withheld information. To date, no one has come forward despite my requests to say they were the author of this document; the author certainly has some questions to answer.
See: shhh-dont-mention-the-pre-planned-deer-cull
The Media can't see the Trees for the Forest
Perhaps the most pompous claim Ms Watts makes is that the media got the facts wrong, and that the community councils got misinformation from the media, so didn't understand the scheme.
I find it a bit late in the day to blame the media – does Ms Watts include the P&J, EE, BBC, STV, Northsound, and the Scotsman as well as Aberdeen Voice? Where and when did the City's Public Relations staff counter any inaccuracies in the media? In fact Ms Aileen Malone, convener of the housing committee and large proponent of this plan spoke to the media on many occasions. Here is what Watts wrote on the matter:-
"Aberdeen City Council has no control over how the media report Council meetings. In this case the media did not accurately report on the decisions of this Committee and have continued to publish inaccurate information about this project. They have published their interpretation of the committee decisions."
It should be noted that when the media have published inaccuracies in the past the Council swiftly jumps in to make corrections when it suits them. We saw the recent debacle of the City countering its own press office's release about the frequency and costs of using outside consultants. I also recall a Press & Journal editorial stating that the P&J would apologise when it made errors, but would not apologise for publishing information the City released and subsequently retracted.
Scottish SPCA don't understand the project – says Watts
The work and the position of the Scottish Society for the Prevention of Cruelty to Animals is world-renowned and respected. Except here.
The Scottish SPCA issued a statement specifically about the Tullos cull: they called it 'abhorrent and absurd to kill deer to protect non-existent trees.' Ms Watts doesn't believe the Scottish SPCA are clever enough to have formulated its stance, and writes the following:-
"You quote the Scottish SPCA in your response. We* have been unable to find any evidence from the charities [sic – she must mean charity's] policies that it has one that is against culling.
"We are in the process of checking this with the organization. We believe that the quote from Mr Mike Flynn is based on inaccurate reporting of the committee decision in the media. If the SSPCA were financially able to and prepared to relocate the deer legally within the project timescales, then the City would be amenable to them doing so."
However, this amazing about-face needs examining, regarding allowing the deer to be relocated. The Council and the Scottish Natural Heritage made their positions clear previously that moving deer was not a solution.
I wrote to the Scottish SPCA to get their feedback on Watt's paragraph above, and spoke to Mike Flynn on 26th August. He explained the difficulties in catching and moving deer, and says this idea just does not work. Mike confirmed the Scottish SPCA's position on culling: it is to be carried out only where there are clear animal welfare issues or public safety issues.
Flynn confirmed that a person from the City did contact the Scottish SPCA to ask for its policy on culling. He was not happy that Watts believes he didn't understand the issues and had been misinformed by the media. He understands, and is happy to stand by the previously-stated position: it is abhorrent and absurd to cull the Tullos Hill Roe Deer to plant trees. And whatever anyone at ACC may say, Mr Flynn is right.
* (somehow Ms Watts is now a group or is using the royal 'we' –she does not spell out who she means when she says 'we')
My Opinion and Conclusions Summarised
• The main conclusion I reach from months of research and asking questions is that I will be given different information from every council official, officer and elected member I speak to.
• They are united in one thing: they want the deer shot and the trees planted at all costs.
• The expert they hired after a tender process (note – the cost of this expert should be queried) is not interested in other experts' opinions: this is no longer detached scientific expertise, but dogma.
• They are not actually as united as they think they are. There is increasing SNP resistance to this plan, which must be encouraged. Ms Malone insists the 'tree for every citizen' scheme was a Lib Dem election pledge. Ms Watts writes the Lib Dems and SNP jointly pursue this scheme, which "… has the mandate of the people of Aberdeen." This Mandate is most definitely in the past tense – now that we know what the planting means for our deer and other existing wildlife.
• Most importantly: it is not too late to stop this insane scheme!
Watts next? – my opinion
A radio presenter had invited me and Aileen Malone to speak about the deer situation some months back.
Aileen was far too busy to spare the 20 minutes of a Sunday morning for this phone-in debate. A shame – as she could have rectified all the 'misunderstandings' which Watts claims the media are putting about. The show's researchers were told I was not part of any group. And, I am not.
Still, the presenter seemed keen to draw me into an argument about direct action and getting people to stand in front of guns. I do not want to tell anyone to do anything, particularly anything to do with gun-toting shoot-to-kill mercenaries. However, it is plain that reason, logic, expense and the will of the people are being thrown out the window.
Before I had seen Emily James' film about average people taking direct action, 'Just Do It' (at the Belmont a few weeks ago), I would not have considered taking steps to directly intervene in this tree plan. I am now re-thinking my position. When campaigning and logic have no effect, other (peaceful) means may be needed.
In the meantime, please get in touch with your elected representatives. Details of councillors can be found at:
http://committees.aberdeencity.gov.uk/mgMemberIndex.aspx?bcr=1
Tell them what you do and do not want to happen regarding Tullos Hill. Stopping this cull is not down to me or any one group – it is down to everyone.
If anyone wants a postcard to send the City, or a poster to put in their window, or to be kept informed of any developments, please write to oldsusannah@aberdeenvoice.com – sooner rather than later.