On Monday the 26th September at Aberdeen harbour, the UAL Africa will be open to shippers and forwarders alike to tour on board and have a look at the newest vessel to be added to the current 16 multi-purpose geared vessels of Universal Africa Lines (UAL). With thanks to Rhonda Reekie.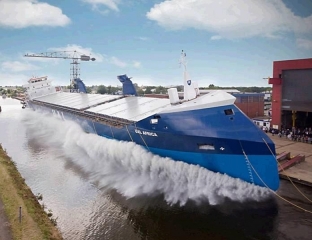 The vessel was actually built in The Netherlands and is special because of the application of the Groot Cross-Bow (registered trademark), an innovative bow shape with wave piercing abilities.
This means the vessel will have less slamming and will be easier to maintain its speed compared to conventional bow shapes with bow flare.
Because of this shape, energy is saved – therefore  less fuel oil will be burned resulting in a reduction of CO2 output.
The vessel will be christened in Delfzijl, The Netherlands on the Friday 23rd September and then sails to Aberdeen, where she will set off on her maiden voyage via Antwerp to various destinations in West Africa like Takoradi, Lobito and Soyo. In the future she will also be used from the port of Houston.
UAL have been sailing from Aberdeen port now for 14 years, and Kestrel Liner Agencies Aberdeen  – finalists in the 2011 National Business Awards (for Customer Focus and Entrepreneur of the Year)  – are their liner agents . Last year they had over 30 vessels in Aberdeen for various West African destinations serving the oil and gas industry.
Kestrel will be hosting the event on Monday.