For the past several months Voice's Suzanne Kelly has been attempting to persuade Aberdeen City Council to stop its planned cull of the Tullos Hill roe deer, which the City insists is necessary in order to plant tens of thousands of trees.  At least four community councils representing tens of thousands of people have likewise condemned the cull, as have 2,400 petitioners and hundreds of letter-writers. As the proposed cull looms, Suzanne updates readers regarding her search for answers.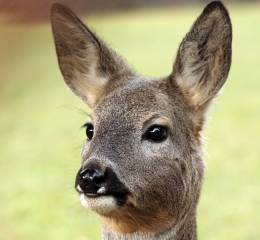 The public were initially invited to consult on a tree-planting scheme.  The consultation document said rabbits would need some form of control (fencing) – but no mention was made of the deer slaughter – even though the City and Scottish Natural Heritage had already planned to kill the creatures.  The animals have lived on the hill for at least 30 years with no cull; their average lifespan is 6 or 7 years, and they are a source of pleasure for local residents.
But the City wants the cheapest method to plant the trees. As they are spending public money, they must go with the most cost-effective methods available. Do they really always take such care with our money I wonder.
Aileen Malone – the most vocal City proponent of the plan has stated that  'A Tree  For Every Citizen' was a LibDem Election pledge, and a LibDem/SNP plan according to City Council Chief Executive Valerie Watts.
The plan therefore, she writes:
"has the full backing of the people of Aberdeen."
Search for the Truth:
Whether or not the people back this plan is not the only area where the City and the deer campaigners differ. 
For my part I made formal complaint to Valerie Watts in May.  The City's response in June was riddled with generalisations and flawed logic – and a serious omission (more about that follows).  I countered the City's answers in mid June.  I waited for a response and chased this up on 7 July.  Nothing happened.
I chased a reply again on 8 August – and sent a copy of the email to the Public Services Ombudsman, asking them to look at the delay.  Watt's office then replied to me very quickly – saying that they had already answered my questions.
The City's says it sent me an email on 11 July (there is no concrete electronic proof of it yet) with a response to my counterpoints.  I searched my entire email without finding any trace.  I will see if I can get an expert to determine if I accidentally deleted any incoming email on my end, and I will be asking for proof from the City that the email exists on its servers (I find it very interesting that their first answer to my complaint came by both email and hard copy in the post.  The second reply certainly did not show up in the post either, and did not have my home address at the top, which the first document did).
But I digress.  The quality of the City's reply is astonishing.
It again glosses over facts, misinterprets my very clear questions, promises to send me attachments which I don't have, and denigrates any professional opinions (SSPCA, outside experts) who disagree with a cull.  I will be detailing the full amount of complaints to the Ombudsman and sharing the information in the press.  However, there is one point that to my mind is so blatantly disingenuous that it looks for all the world like the shabbiest attempt at climbing out of a hole I have ever seen or heard of.
If any readers whether for or against the cull would like to give me their opinion on the following, I would be most grateful.  I really want to know whether the following exchanges seem open, fair, and accurate to other people.  It occurs to me that I may be over-reacting, but everyone who has seen this so far is, well, outraged.
Black and White facts:
In my ten-point initial complaint I wrote to Valerie Watts on 20 May, 2011, this was one of my questions – word for word:
"I would like to ask:  is it true that the Council owes a sum for previous, failed planting?  I was told that £44,000 approximately is owed by the City in this regard – please clarify".
Ms Watts' reply to me in early June (received on 7 June 2011) reads as follows regarding the point; again the text below is verbatim:
"Aberdeen City Council does not owe any amount to any organisation relating to a previous failed planting scheme."
This reply surprised me greatly, as I had a source who was certain a debt definitely existed and had long gone unpaid.  I asked my source for proof and they very quickly came back to me with proof positive that the City had been chased by the Forestry Commission for money; the proof was a letter from the Forestry Commission dated 2 March 2011 –  See attached for ease of reference, but here is the crucial paragraph:-
"Tullos Community Woodland
"This is a failed WGS planting scheme. The scheme failed due to inadequate protection from deer and weeds. On the 4th November 2010 we issued Aberdeen City Council with an invoice for £43,831.90 – the reclaim of monies paid out under the above contract. This invoice was to be paid within 30 days. The monies have not been received. This invoice is now accruing interest and has led to a payment ban being put in place over your Business Reference Number".
I found it astonishing that Ms Watts did not know about this debt; this was a fair amount of taxpayer money for a cash-strapped city to be spending on trees it could not successfully grow.  She was still new in her post as Chief Executive – perhaps she did not know about it.  It never once occurred to me that our highly-paid Chief Executive knew all about this debt but decided to respond to me as she did. 
But that is exactly, precisely what happened:  she knew all about it – and decided to not mention it.
As it turns out, the City had paid the debt not long before I wrote my question.  A critic might on first thought side with the city – after all, the debt was paid.  But I most clearly asked for clarification.   I asked about a debt adjacent to £44,000 for a failed tree planting on Tullos Hill.
I found this shocking as far as it went, and was eagerly awaiting Watt's reply.  It is inconceivable to me that I would have accidentally deleted an email I was chasing and had looked for eagerly in my inbox for months.  But here is the newly-received response from Valerie Watts, which pushes the word 'disingenuous' to a new level – if not straight over the edge to dishonest:-
"The £43,831.90 you refer to does not relate in any way to the current Tree for Every Citizen Project.  This as a grant repayment from a previous planting scheme from 1996 which failed due to deer damage and a lack of weed control.  This amount was repaid to the Forestry Commission Scotland prior to your enquiry so at the time of your enquiry dated 20 May 2011, when you asked "if ACC owed £44,000" our response was correct as the re-payment had been made against  the 1996 grant payment prior to this date".
First I note how conveniently Ms Watts says she was 'correct' as the repayment had been made.  This of course ignores my asking for clarification of a £44,000 debt for a failed tree planting on Tullos Hill.
Secondly, the 'weed control' has not had any mention whatsoever in any of the public consultation documents.  I find virtually no mention of weed problems in the Housing & Environment Committee minutes on this subject  – just a gung-ho desire to find a cheap way to kill the deer.
The public certainly did not agree to this and are justifiably angry that the cull was kept secret.  The city keeps repeating to me that the public consultation was not about the method to be used – yet it clearly talks about the method for keeping the rabbits out.
Thirdly, I think the Forestry Commission must be very generous:  if the scheme was rooted in 1996, and they were only chasing their £43,800 in 2010, then that represents some fourteen years of waiting for payment. ( I wish my creditors took a similar stance).  I would say that this old debt coming out of the city's treasury at this tight financial time is something of a disaster.
So, in Ms Watts' eyes, my asking about a 'previous, failed planting' and an approximate cost of £44,000:
"does not relate in any way to the current Tree for Every Citizen Project".  
I had not asked her to relate the current plan to the past debt.  I had asked if there was a previous failed planting.  Ms Watts goes on to describe – in her own words:
"a grant repayment from a previous planting scheme in 1996 which failed…."
I would very much like to know if anyone who reads this piece sees a similarity between the previous failed planting I asked about and the "previous planting scheme in 1996 which failed".  Does any reader see a similarity between the £44,000 I mentioned that I wanted clarified and the £43,800 repayment?  Perhaps it is just me.
The bigger picture here is why the city is so desperate to take this completely arbitrary gamble to turn an existing wildlife area into a forest – a forest which apparently cannot be created without killing some of the existing deer.  The residents do not want it, despite Ms Watts' claims that they do.  Protesters are told time and time again that this scheme is 'cost neutral.' 
If we had to pay £43,800 – and may indeed need to make more  payments as the Forestry Commission letter hints at – then I for one cannot see any 'cost neutral' claim holding up.
Your help is needed – Urgently.   
If you can spare a minute to contact me with your opinion of this exchange, it will be greatly appreciated.  If you think I am right to now have serious questions on the honesty, integrity and suitability of Ms Watts to continue in her role , then please do let me and her know.
She is paid a higher salary than the Prime Minister, and is responsible for projects worth  millions of pounds  – but  is apparently incapable of seeing a relationship between my question and the facts she had.   If on the contrary you think that this £43,800 bill (note – in the Forestry Commission's letter it emerges that we might wind up owing over £100K) is fair enough, that  the matter of Ms Watts reply is not important, and the cull is fine with you, then I want to know that as well.
The deer and existing wildlife and plants have very little time left, and I do not even know if the City can answer simple questions accurately – and/or honestly.  If you can in any way help to stop a slaughter which the Scottish SPCA calls 'absurd and abhorrent', please do speak up now.
It is known that many people inside the City government are concerned at the scheme's details and some are looking for a way to end it.  Let's help them with some hugely-deserved public pressure on those who are pressing ahead with the cull regardless.
Finally,  please come to a picnic on Tullos Hill next Sunday 21 August at 2pm.  It may well be your last chance to enjoy this habitat as it exists.
Image Credit: © Catalin Pobega | Dreamstime.com