Two Aberdeen residents are embarking upon a Mini adventure of epic proportions to attend a charity event. Voice's  Stephen Davy-Osborne is all set to participate in the event.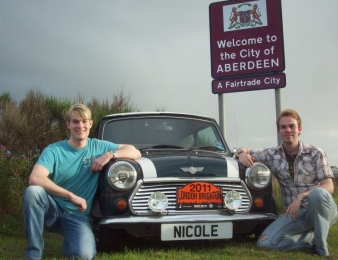 Stephen Davy-Osborne and Steven Gerrie will be driving cross-country from Aberdeen to Westward Ho! in Devon, South West England in a classic Mini Cooper, to take part in the annual Legendary North Devon Grand Tour.
Hundreds of Minis will come together to raise money for local children's charity Children's Hospice South West.
The event, now in its 17th year, has raised thousands of pounds in sponsorship and donations for the charity, and their North Devon Hospice Little Bridge House.
Event organiser Terry Baker, who has been driving the event right from the very beginning spoke to the Aberdeen Voice about what he thinks makes the event truly unique, encouraging – as they are affectionately referred to in Mini circles – "nutcases" to come back year after year to participate:
"Maybe it is the Mini owners who take part and the incredible amount of money they have raised over the years. Maybe it is the thousands of people who line the streets and wait in lay-bys, stand on street corners and fill the villages and towns just waiting for the Minis to go by. 
"Maybe it is the fantastic motorbike marshals who ride ahead and keep all the minis together and close the roads so that we can keep going. Any one of these would make the Grand Tour special, but when you put them all together with a group of very special children and their families from the children's Hospice you have something that is pure magic and not just for the Mini owners."
The event takes place over the August bank holiday weekend, taking in some of the finest scenery the South-west has to offer; driving through streets lined with locals and holiday makers alike who have come out in force to show their support for the charity.
The convoy of around 300 Minis drives noisily right up to the front door of Little Bridge House and around the purpose-built roundabout the wrong way, while children staying at the hospice wave them on with flags and banners created especially for the day.
This part of the run is especially poignant, as Terry recounts:
"When we drive through the Hospice we are privileged to see the children having fun; laughing, smiling and waving flags. It is hard to remember that Little Bridge House is a place where get well cards do not work, and that no matter how many hugs you give the special children you can never kiss them better; all the magic in the world cannot change their diagnosis."
Perhaps it is not surprising that many a driver and co-pilot emerge from Little Bridge House with a lump in their throats.
If you would like to make a donation to the event, or for further information, check out: www.justgiving.com/LNDGT/