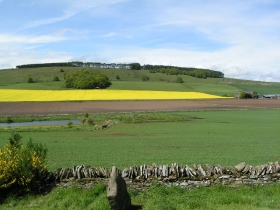 With thanks to Kevin Hutchens.
Kevin Hutchens, Scottish Labour's Scottish Parliament Candidate for Angus North and the Mearns and William Campbell, their candidate in Angus South have united behind the call for formal recognition of the importance of the Battle of Nechtansmere site near Dunnichen in Angus.
According to Kevin Hutchens :
"First indications are that the site of the battle may be near Letham which is clearly in Angus South, however the exact site is unclear, and it is almost certain that skirmishes will have taken place in the Forfar area before and after the main battle and that the battle took place around the area.
What is clear is that at present no archaeological evidence has been found to indicate exactly where the battle site was.  So both of us as candidates could lay claim to having the site of this important historical battle in our constituency ".
William Campbell stated:
"Angus is widely known as Scotland's Birthplace because of the signing of the Declaration of Arbroath in 1320.  The Battle of Nechtansmere was arguably even more significant because it established more than six centuries earlier that the Northumbrian forces could not successfully challenge the Picts in their own territories.
It was a defining moment in Scottish history, and Kevin Hutchens and I are therefore issuing a joint call to Fiona Hyslop MSP to ensure that the battle, with its contribution to Scottish history and culture, is fully recognised."
Kevin Hutchens adds:
"Such recognition is long overdue for this important event that helped shape much of the built landscape and place names of Scotland as we know them today "
Footnote by Fred Wilkinson.
The Battle of Nectansmere is recorded as having taken place on 21st may 685AD and is regarded as a key event which assured Scotlands future as a Nation. The Northumbrian Angles, led by King Ecgfrith sought to expand their territory further at the expense of the Picts led by King Bridei Mac Bili.
It is believed that the Picts  tricked the Angles by splitting their force into two armies – one cohort fleeing, only to lead them into an ambush  by both cohorts, and overwhelming them with " a hail of stone and spear, as the Pictish army attacked from both sides." ( source – http://www.information-britain.co.uk/famdates.php?id=172 )
King Ecgfrith died in the battle, as did the vast majority of the Angles, either as a direct result of conflict, or being drowned in the loch in their attempts to retreat. Of the relatively few survivors, many were enslaved by the Picts.
Previous to the battle of Nechansmere, the Northumbrian Angles had for thirty years steadily expanded their territory North at the expense of the Picts.
The Northumbrian Angles numbers were so decimated in The Battle of Nectansmere that they never again recovered the capacity to  advance their territory beyond The Firth Of Forth.