By Suzanne Kelly.
Technology is evolving at an amazing pace; just think how many mobile phones you've had in the past 10 years; and how many different music players and ways to watch movies there are.
It's daunting keeping up with these fast-paced technological developments, even for the children of the 'Information Age'.
For the older person the idea of the World Wide Web, email, Skype, digital photographs and so on can seem out of their reach.
There are common misconceptions the computer newcomer may have – 'it's too complicated,' 'I know nothing about computers or computing,' 'I'm too old to learn,' 'why would it benefit me to be online,' and so on.  The Internet can bring your shopping to your door, let you book tickets in advance, keep in touch with loved ones  – and once these benefits which you and I might take for granted are made clear to the first-time surfer, a whole world opens up.
Happily the Silver City Surfers are on hand to make it all accessible to those over 55 years old who want to get started.
Silver City Surfers is a registered charity that provides free one to one support for people over 55 years who have little or no experience of IT.  It currently operates from 10.00 to 13.00 hours every Wednesday and Friday in the Salvation Army Citadel.  They also run outreach services in Seaton and Torry, and more details can be found on their website, http://www.silvercitysurfers.co.uk/ .
I visited the Silver City Surfers at the Tullos Community Centre; Chris Dunhill, Coordinator, introduced me to some of the tutors and the surfers.  There were about a dozen people – some working alone, some chatting, some in training.  The training sessions are one-to-one, and after a few basics are mastered, the learner tells the tutor what they want to accomplish or learn:  the training is always delivered to the individual's needs, and there are no forms or tests.
people are getting skills, knowledge, pleasure and socialising as a result of the Silver City Surfers
Betty was doing some creative graphics on her own; she has a mastery of Photoshop I would like to have myself.  I also spoke with Jim Thomson, who proudly detailed how he and his tutor had created impressive family tree using special software and online resources.
I spoke to Irene – a brand new Silver City Surfer – her story is quite a common one for the older computer 'newbie'.  A relative had made her a gift of a computer, but she had no training and no real idea what to do – so she used it to play 'Solitaire' for nearly a year.  A friend told her about the SCS group, and she was extremely glad she came along. When I met her, she and her tutor were looking for broadband providers which would meet her budget and needs for her home computing.  She looked quite at home on her computer even though she was just getting started.
Other members were keeping in touch with relatives around the globe using email and Skype – one person explained how his daughter in California was his own personal 'helpdesk':  if he had a computer problem, he would contact her by Skype, and she would get remote access to his computer – either fixing the problem, or teaching him what to do.  Clearly these people are getting skills, knowledge, pleasure and socialising as a result of the Silver City Surfers.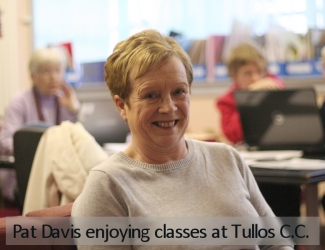 Along with the advantages are potential pitfalls – security and safety online are crucial.  There are many sophisticated illegal schemes out there such as 'phishing' scams in which criminals pretend to be legitimate businesses (particularly banks), and email the unsuspecting victim, demanding passwords and personal information.
While the more experienced 'surfer' will be aware of such cons and know what to look for, the older person is apt to be more trusting.  By educating its clients, the Silver City Surfers give new users clear, concise help for staying safe on line.
Margaret Smith, Chairperson of the Silver City Surfers adds:
"…people are coming out to the Silver City Workshops and are enjoying themselves, then when they get back home they can use their new skills, and have a less isolated life."
Margaret noted that more and more government/public services are contactable by email and use websites, so it is important that older people know how to do basic computer communications so they do not get left out
As I was leaving the Tullos Centre, a lady who was in her seventies remarked  she '…was only about 20 years old in her head.'  With an attitude like that and a computer, there is probably nothing she can't achieve.  If you know someone who would benefit from learning about computers with other over 55s, the Silver City Surfers is the way forward.