By Helen Thomas.
The residents of Menie can celebrate. The threat of being forcibly evicted from their homes has been lifted.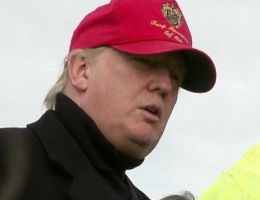 As reported in The Press And Journal on Monday 31st Jan Donald Trump publicly states that he will not be asking Aberdeenshire Council to use Compulsory Purchase Orders (CPOs) to evict residents from their homes to make way for his golf resort.
Of course he also states that, "we have not, and will not, request that Aberdeenshire Council use their CPO powers to purchase houses."
His statement is designed to make himself out to be the victim of malicious lies, whilst the Menie residents are branded troublemakers.
Unfortunately for Mr Trump however, there is documented evidence that he did make the CPO request. In the press release http://www.aberdeenshire.gov.uk/news/release.asp?newsID=1258 obtained under the Freedom of Information Act, the Council states:
"The Council has been asked by the Trump Organisation to use its powers of compulsory purchase".
Can it be any clearer? One does not have to be too cynical to guess that Trump's statement is the result of a huge volume of negative publicity and a desperate attempt to manage the backlash. Resistance is growing and he knows it. People don't like to be bullied and the threat of the use of CPOs against homeowners for his own gain is just that. Because of these lies, the Menie residents will be cautious in celebrating. They know the battle is not yet won and wonder what will come next. ( See STV Article and Video: Click Here )
They are not alone in their battle, however.
A small parcel of land next to Michael Forbes's land, right in the heart of the potential development, has been bought by the campaigners and anyone can sign up to own a part of it. Nicknamed The Bunker, this piece of land, and the campaign solidarity it offers, is now owned by 10,000 people – and that number's growing every day. The residents' fight has reached every corner of the globe. The Facebook group has new requests from people wanting to join daily – from places as diverse as Florida, the Netherlands and Australia.
It's not just 'ordinary citizens' either. Ex-Queen guitarist Brian May has pledged his support. The Green Party's Leader and MP Caroline Lucas, author and broadcaster Cameron McNeish and film producer David Puttnam have all joined The Bunker.
The world is waking up to Donald Trump – and they're doing it in Scotland.
If you would like to join The Bunker please visit http://www.trippinguptrump.com/the-bunker or join us on Facebook at http://www.trippinguptrump.com/the-bunker