With thanks to Grace Banks and Jenny Watson.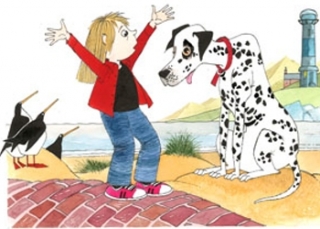 The launch of new book by Sheena Blackhall will serve as a warning to anyone thinking of taking a packed lunch beyond their own front door!
Millie is the tale of a beloved Dalmation dog who loves to steal sandwiches! She travels round the North East of Scotland stealing goodies from unsuspecting fishermen, golfers and posties.
Illustrated by Bob Dewar and edited by Bill Burnett, the book is written in Doric, with an English translation, and is published by the Reading Bus. (www.readingbus.co.uk)
The Reading Bus is a city-based service which delivers a highly innovative, motivating and successful literacy programme in the St Machar, Northfield and Torry Communities.  This ground breaking project has succeeded in promoting reading as a lifelong pleasure, raising attainment and achievement of children at risk of early failure and involving and empowering parents in their children's learning.
The multi-coloured Reading Bus visits schools and community locations and welcomes onboard youngsters and families for a wide literacy programme including storytelling, author visits, read together sessions, poetry and puppet work.  The project also includes a film animation and radio programme as well as having its own in-house publishing company called 'Bus Stop Press'.
Millie will be launched on Thursday 4th November 2010 and will be available in all good bookshops near you, at the bargain price of £5.99.
A Millie website, full of resources to complement the book will soon be launched. There will also be a Millie Tour onboard the Reading Bus with Sheena Blackhall which will take place in Aberdeenshire in November and December and Aberdeen City in January and February.
Watch out for Millie appearing near you!